What do these items have in common? While all of these items may be found for sale on local classified websites, they are also a selection of goods that can be processed in Bermuda at our Materials Recovery Facility (MRF).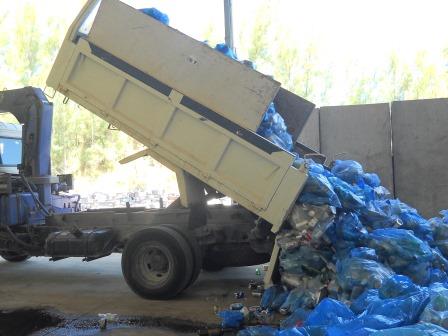 Blue bags of TAG recyclables arrive at the Materials Recovery Facility.Bermuda's recycling facilities are more substantial than many us would expect and the recent eWaste recycling day serves as a good reminder of this. During 2011/12, we shipped 84 containers full of various used consumer goods to recycling facilities in the US. These facilities have the capacity to properly dispose of our manufactured leftovers. When considering many of our out-bound cargo ships leave nearly empty, this is a win-win scenario.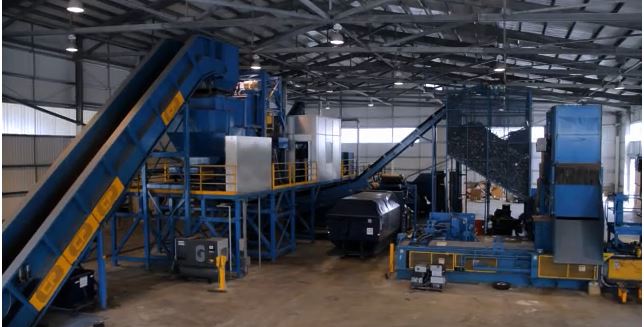 TAG recyclables are automatically sorted on the massive conveyor belt at the Materials Recovery Facility.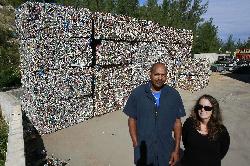 Tin and aluminum are compacted, then shipped and sold in the US.Importantly, Bermuda's economy benefits from our recycling program too. Tin and aluminum are collected, processed (compacted), and ultimately sold in the US. An employee of the Waste Management Section of the Ministry of Public Works plays the role of commodities trader and monitors the price of these metals, selling only when the demand/offering price is high. Many goods that you may not think of as recyclables are also.
E-waste is also a valuable source of metals – some studies have found that the concentration of gold or lead in computers and old TV sets is higher than in ore that is produced in mines. So recycling our old e-waste not only keeps dangerous chemicals out of the incinerator (and the air) but also provides raw materials for new electronic circuits, car parts, computers and more.
Glass is crushed and is re-used locally in landscaping and construction projects.Not all of our recyclable goods are exported. Impressively, Bermuda's Material Recovery Facility, built at the old Government Quarry, coordinates the collection and processing of 50 container loads of crushed glass each year. Almost all of this is re-used by the Island's construction industry as a concrete additive, but it can also be used for drainage in gardens or as part of the aggregate for roads. This saves us money because we don't have to import as much sand or building materials.
Used clothing shops, and more recently, on-line classified and freecycle websites (for example, Freecycle Bermuda) are another common and useful way the Island recycles (or more specifically – reuses) goods. Businesses also encourage recycling, with some grocers providing shoppers with blue plastic bags at the checkout that can be used to package up our recyclables for collection. (They also often have containers for old batteries so that these can be safely disposed of.)
According to Vanese Flood Gordon, one of the education officers for the Ministry of Public Works, only 1 in 3 households recycles tin, aluminum and glass by setting it out for collection. Greenrock respectfully encourages all of Bermuda's residents and businesses to take part – its better for Bermuda.
View or download the

2013 Waste Collection Schedule.
Raise your glass (or tin can) to recycling in Bermuda – it works!

More> When we throw things away, where is "away"?

---
 About the Author: Matt Carr volunteers on the Greenrock Management Committee, and acts as our Legal Counsel.
For more information on Government Waste Management visit www.wastemanagement.gov.bm, email This email address is being protected from spambots. You need JavaScript enabled to view it., or call 292-1517.
Tours of the Materials Recovery Facility (aka the recycling plant) are available by appointment for schools, companies and other groups interested in learning more about going green. E-mail This email address is being protected from spambots. You need JavaScript enabled to view it. for further information.
A version of this article entitled Recycling: It's easier than you think in Bermuda appeared in The Royal Gazette's Green Pages on 5 Sep 2013.