Yesterday [Apr.12] Environmental organization Greenrock and BELCO announced the winners of the 2012 Earth Hour Essay Contest for Students, which was sponsored and coordinated by BELCO. The prize-giving ceremony took place at the Bermuda National Library, Youth Library.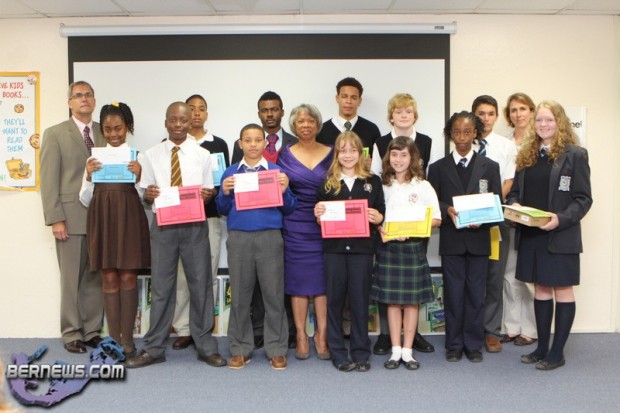 Writing essays on the theme "Five Ways that I Keep My Bermuda Green", 261 students entered the 2012 contest, as compared to 119 in 2011. The contest is intended to raise awareness about environmental issues, as well as to encourage research and writing.
The 2012 contest judges were:
Bermuda National Library, Marla Smith, Librarian, Youth Library
Representing the Earth Hour Council and also the Ministry of Environment, Planning & Infrastructure Strategy: Director of the Department of Energy Jeane Nikolai and Sustainable Development Officer Nicola O'Leary
BELCO Environmental Officer Wendell Richards and Sigma Corporate Information Analyst Thania Redman
The 2012 contest winners are:
In the ages 15 to 18 category:
First Place – Raymond Bean, Jr., The Berkeley Institute (click here for essay)
Second Place – Justin Ferreira, Warwick Academy
Third Place – Kahlid Y. Muhammad, CedarBridge Academy
In the ages 12 to 14 category: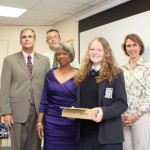 First Place – Amelia Oatley, Warwick Academy (click here for essay)
Second Place – Blair Smyth, Mount Saint Agnes Academy
Third Place – Aldon Campbell, Somersfield Academy
Honourable Mentions went to William Porter from Whitney Institute Middle School, and Cassy McPhee from Mount Saint Agnes Academy.
In the ages 9 to 11 category (which had 189 entries):
First Place – Nicholas Siese from Warwick Academy, who also won First Place in this category in 2011, when he was attending Somerset Primary (click here for essay)
Second Place – Caroline Amaral, Mount Saint Agnes Academy
Third Place was a tie, with prizes awarded to both Abigail Jones from Warwick Academy, and Eanajah Armstrong from Somerset Primary
Honorable Mentions went to Zane Curtis-Thomas from Somerset Primary School and Jahmiko Marshall from Harrington Sound Primary School
The prizes for the winners are:
1st Place, Kindle Fire® loaded with the selected books on environmental topics and $50; also each 1st Place winner's school receives $250 to use for an environmental project

2nd Place, books and $50

3rd Place, books and $25

Honourable Mention – $25 Gift Card to Brown & Co. (hopefully to buy books!)
The gift books selected for the students by Librarian Marla Smith are:
Ages: 9 – 11 365 Ways to Live Green for Kids – Diane Gow McDilda (2008)

Ages: 12 -14 Green Teen – Jenn Savedge (2009)

Ages: 15 – 18 Generation Green: The Ultimate Guide to Living an Eco-Friendly Life – Linda Sivertsen (2008)
You can read the three first place essays: Raymond Bean here, Nicholas Siese here, and Amelia Oatley here.
Click here to view original article