Turns out, the energy they use is A LOT. That's because standard holiday lights are just mini incandescents, one of the most ineffecient ways we light our homes today.
These little lights are annoying for a couple of other reasons. They break very easily; and if one bulb burns out, you often have to throw away the whole strand.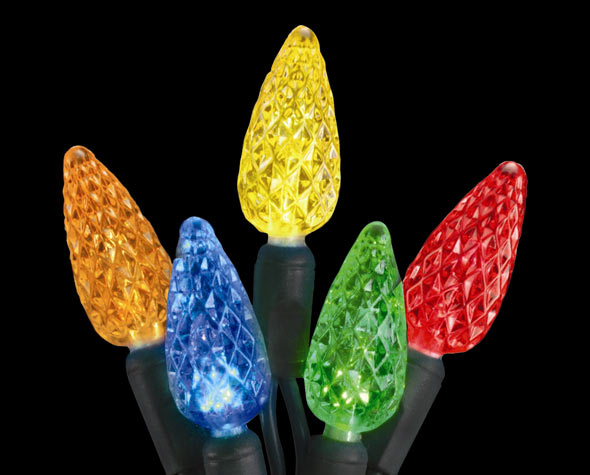 The alternative? LEDs.
Light emitting diodes, or LEDs, are exceptionally energy efficient; depending on the design, LEDs may use up to 90% less energy than an incandescent bulb to produce the same amount of light.
For example, the amount of electricity consumed by just one 7-watt incandescent bulb could power 140 LEDs — enough to light two 24-foot (7.3-meter) strings.
LED Features & Benefits
• Use 80% - 90% less energy than traditional incandescent holiday lights
• ENERGY STAR® qualified models help consumers choose efficient lights
• Can last up to 10 times longer than traditional incandescent lights
• Cool to the touch, reducing the risk of fire
• No filaments or glass, so they are much more durable and shock resistant than other lights
According to the U.S. Environmental Protection Agency, if all decorative light strings sold in America this year were ENERGY STAR qualified, it would save over 700 million kWh of electricity per year and reduce greenhouse gas emissions equivalent to those from about 100,000 cars!
Like several other appliances, energy-efficient LEDs are somewhat more expensive to buy than their energy-wasting counterparts, a fact you might find hard to over look even though you'll make up the extra costs over time on your energy bill. In the USA, to help ease that pain, several companies offer discount coupons that encourage consumers to recycle existing, energy-wasting bulbs and replace them with LEDs. Hopefully we'll see Bermuda retailers follow that lead in the near future!
For related biggreenpurse.com article, click here.
For ConsumerReports.com review of Holiday lights: Incandescent vs. LED, click here.