Questions raised by Greenrock's Green Office Advisory Panel and other office green teams include: "Is there anywhere useful we can send old computers?", "What do we do with old phone books?" and "Is there any point in the TAG recycling program?". Greenrock recently raised these issues with the Solid Waste Manager at the Ministry of Works and Engineering. The following answers come from that meeting and from other Greenrock conversations.
Phone books are a tough problem. Bermuda does not recycle paper. This is because the Tynes Bay Waste to Energy facility allows us to produce renewable "green" energy right here in Bermuda rather than consume the energy and resources required to collect, process and ship materials overseas for recycling. However, the volume of paper that comes from changing the telephone directory annually presents an opportunity to recycle paper efficiently with a minimum of processing.
Currently BTC does try to recycle, and we understand they ship a container of old phone books overseas (as reported by Solid Waste Management). But this works best when all phone books come in together, and coordinating this timing is not simple. Businesses should contact BTC directly to ask about the best timing for old phone books. Companies could also consider allowing employees to bring their directories in from home. Schools with a strong recycling program, such as BHS, could also consider acting as a central repository for the return of phone books. This is not a program that is very effective at the moment, though, and it deserves more attention.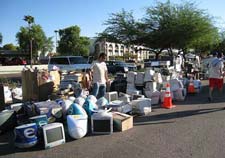 What about old computers and electronics? I am sure many of you, like me, feel uncomfortable to the point of squeamishness at the thought of just tossing them in the trash: Surely someone somewhere out there could use them? African or Asian schools? Right now we don't know of any developing region (or other) program which makes use of old electronic equipment, other than the US Armed Forces, which recycles used cell phones for soldiers serving overseas.
Recently the Government started a programme to encourage the responsible disposal of "e-waste" and to eliminate disposal of this waste at the Airport Waste Management Site. It turns out e-waste means virtually anything with a power cable, including TVs, sound systems … you get the idea. The waste management section of Works and Engineering receives e-waste at their Material Recovery Facility or MRF (recycling plant). They then bulk ship it to New Jersey for "de-manufacturing and disassembly" by a company that guarantees the environmental sensitivity of its processing and disposal.
Waste Management hosts two public e-waste drop-off events annually and is currently working with the Chamber of Commerce IT committee and E-Cab – a consortium of IT professionals from various Bermuda-based companies – to ensure their e-waste is correctly recycled. Negotiations are underway with a number of local computer retailers to establish a "Recycle Bermuda: Participating Retailers" programme for in-store e-waste recycling drop-off points. Additionally, all local cell phone stores have two prominently displayed recycling tubes, one for cell phones and one for cell phone batteries. Last year Waste Management shipped seven containers of e-waste to the US recycling market.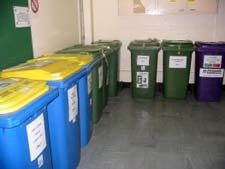 When it comes to 'TAG' (tin, aluminium and glass) recycling, unfortunately Bermudians aren't that keen. According to Works and Engineering, about 25% of residential TAG materials are recycled, and this has not changed much over the last few years. Numbers are not kept for office buildings, but the feeling is that it is lower. This is partly due to the problem that asking office cleaning services to separate recyclables costs time and therefore more money. Also, not all private waste disposal services, required for most businesses outside the Corporation of Hamilton, provide recycling services.
Making TAG recycling work in the office takes an effort on the part of employees and ongoing conversation with the waste disposal services. One great idea we heard is to ask the cleaning contractors to provide motivation by leaving cans or bottles found in regular office trash on a desk with a small printed card saying "this office supports recycling" or something similar. This may be rather strong medicine for some, but it does put the responsibility where it should lie: with the consumer.
While we are on the subject of waste disposal, be aware that vehicle batteries always contain heavy metals and often strong acids as well. The Ministry of Works and Engineering packs them and ships them off the island to have the heavy metals stripped and made ready for the recycling market by a disposal company audited by Solid Waste Management. Last year Bermuda shipped 23 standard shipping containers of vehicle batteries to the US.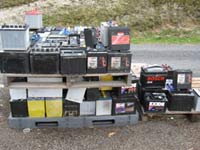 Domestic batteries should also be disposed of carefully: no one wants to breathe in the fumes that come from burning them in the incinerator. Solid Waste Management has provided 150 battery disposal tubes, found at Lindo's and other stores around the island. If you see an overfull tube, please give Solid Waste a call – they're still working out the right collection frequency. On average, Bermuda has shipped 5 tonnes, or the equivalent of 32,640 D-cell batteries, overseas per annum since 1995.
Finally, we all know we have to ship in almost everything we use here on the island, and to recycle we have to ship almost all of it out again, using fossil fuels in both directions. Greenrock urges all of Bermuda to continue to find ways to NOT use the cans, the paper, the extra cell phones, etc. Remember the 3 R's: reduce, reuse and recycle! We can all support the recycling programmes and continue to creatively reduce our own use.