Great Green Sites for Kids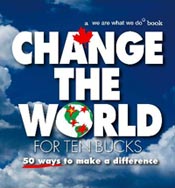 Great Green Books for Kids
How to Save the World in Your Spare Time (Key Porter, 2006) by Elizabeth May.

An Inconvenient Truth: The Planetary Emergency of Global Warming and What We Can Do About It (Rodale, 2006) by Al Gore.

David Suzuki: The Autobiography (Greystone, 2006).

Change the World for Ten Bucks: 50 Ways to Make a Difference (New Society, 2006).

The Everyday Activist: 365 Ways to Change the World (House of Anansi, 2006) by Michael Norton.