These new products are made from renewable resources, such as potatoes, sugarcane and corn, are GMO free, and leave less of a carbon footprint in the manufacturing process. As the products are made from natural food bases, the resources required to make them are renewable, unlike oil which is becoming more and more expensive as supply drops.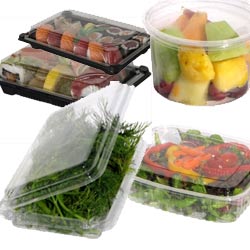 ImportBda supplies two categories of products: a natural plastic made from corn for cold foods, and a natural foam made from potatoes or sugarcane for hot foods. The natural plastics are the most heat stable on the market, able to withstand temperatures of 130 °F. The natural foam containers are heat stable to 375 °F, so they can be used to serve hot food and can even be microwaved for easy and safe reheating.
Some of the products available are:
cold cups, lids and straws
hot cups and lids
soup cups
sugarcane food trays, plates, bowls and clamshells (microwave and freezer safe)
cutlery (hot and cold)
cold food containers
biodegradable 'plastic' bags and film
napkins, stir sticks and coffee sleeves
In a commercial composting environment, these products will completely degrade in 40 to 90 days. While most of Bermuda's waste is incinerated, these food containers can be degraded at our Marsh Folly site or, if incinerated, will burn like paper, producing less toxic smoke and particulates than their counterparts. A great deal of our waste ends up in the water, intentionally or accidentally. These natural products are also degradable in the marine environment. In addition, they provide a healthier alternative to plastic when it comes to food storage.
Greenrock believes that these products provide an ideal alternative to plastic containers used in the food industry. The natural containers have been tested and are as durable as the plastic alternatives. They also come in a variety of similar styles.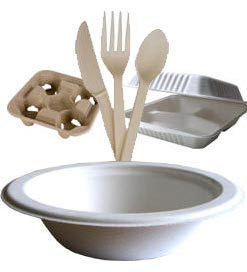 The cost of these eco-friendly products is similar to or slightly higher than their plastic counterparts. But more importantly, their use is helping to reduce our dependency on oil-based products. In time, Greenrock expects to see changes to the Duty Tariff Act that will provide an economic incentive to purchase and consume eco-friendly products.
Greenrock has examined ImportBda's business case, pricing model, and storage and shipping process to ensure that the business model is sound and sustainable. We have thoroughly reviewed the company that produces these products for ImportBda and were very pleased with our findings. The manufacturer is a zero-waste facility, they have installed a solar array system on top of their corporate headquarters which provides nearly 85% of daily energy needs, and they are a partner in CO2 Neutral, which invests in projects to help offset any emissions resulting from the production or transportation of goods. The manufacturer's trucks use clean-burning natural gas or biodiesel to help minimise emissions.
All of the products being offered by ImportBda have been labelled by the Biodegradable Products Institute (BPI), the U.S. standard in compostability. They meet all necessary American Society for Testing and Materials standards (ASTM D6400).
For more information, prices and samples of these eco-friendly products, contact James Pereira, ImportBda, tel: 505-8908, email: This email address is being protected from spambots. You need JavaScript enabled to view it..