Details

Earth Hour has always been for everyone. Every year, the hour of no power turns individuals into a million-strong community of people raising their voice for nature through the symbolic action of switching off our lights.  This year we have decided to do things a little differently, we celebrated Earth Hour online to allow everyone to participate from the comfort of their own homes. The focus of our campaign this year was a live broadcast on Saturday, March 27th from 6:30pm to "Lights Out" at 8:30pm featuring a youth segment, a community segment and a segment on the green economy.  During the broadcast we raised funds through pledges and donations while encouraging the viewing audience to sign up as individual members and corporate supporters as well.                                                           
Topics for this year's broadcast included the following:
How do young people feel about the environment?

What Young Environmental Leaders are doing to make a difference

How the Eco-Schools Program is helping our young people

The impact of Fossil Fuel Energy Generation on our Community

Waste Management | Trash Collection | Recycling | Composting

Solar PV and Battery Storage |  What are the benefits? | What will it cost?

What are the long and short term benefits associated with Electric Vehicles?

What are Green Loans and who is currently offering them?
Purpose 

To strengthen our connection with nature, inspire environmental action and raise awareness about sustainable living.
Time and Date
6:30pm - 8:30pm Saturday, March 27th, 2021 (Lights Out from 8:30 - 9:30pm)
Schedule     
6:30pm:

Introduction

6:35pm:

Youth Segment

7:10pm:

Community Segment

7:50pm:

Green Economy Segment

8:25pm:

Countdown to Lights Out

8:30pm:

Lights Out
Did you miss the live event?   Here's how you can watch the recording.
The Live Recording is available on our YouTube Channel.  You can also access it by clicking any of the images below.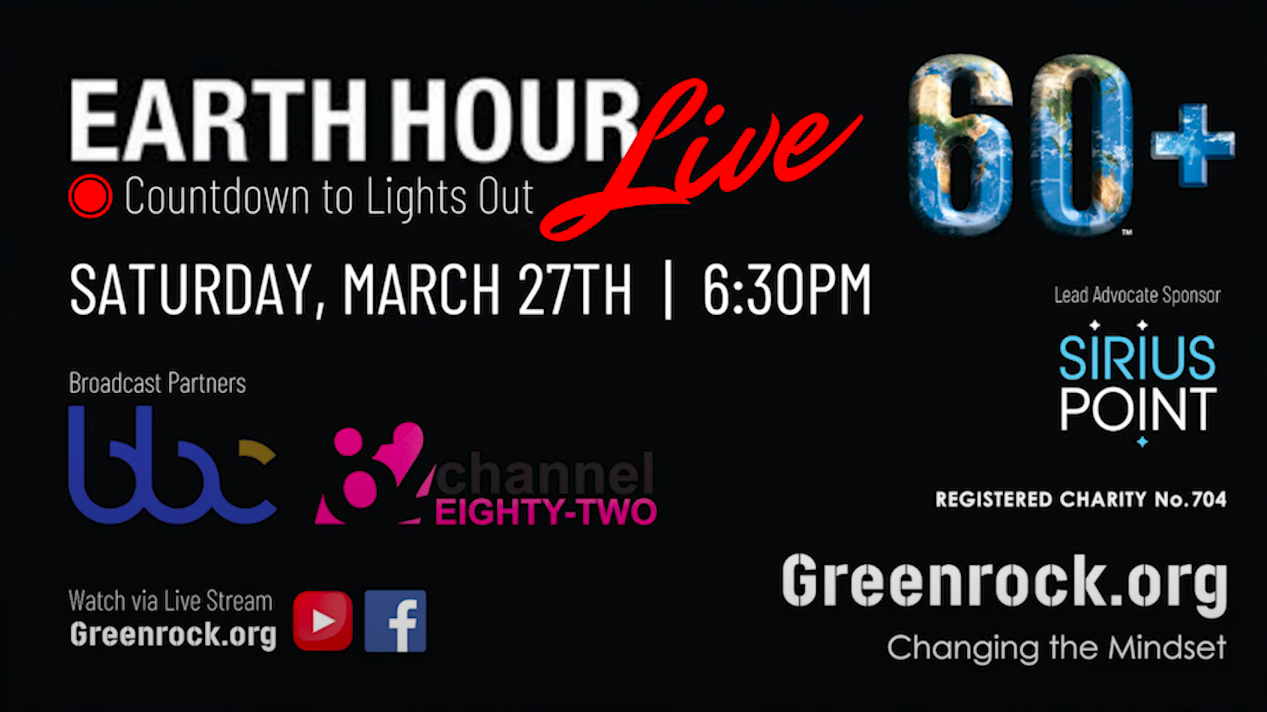 Details
The full schedule for Earth Hour is as follows:
12:00pm – 5:00pm
Living Green Expo
Upper Level, Washington Mall
6:00pm
Children's activities, including face painting, bouncy castle and giant Jenga
City Hall Lawn
6:00pm – 7:20pm
Surviving Progress, an acclaimed documentary featuring interviews with film director Martin Scorcese, anthropologist Jane Goodall and physicist Stephen Hawking
Earl Cameron Theatre,
City Hall
6:00pm-7:30pm
Reading corner - Bermuda National Library hosts a reading to enlighten children through fun stories about how they can do their part to conserve energy and minimize their waste
City Hall
6:45pm
Bermuda Yoga and Horizon Health yoga and Pilates classes
City Hall Lawn
7:30pm
Rebecca Faulkenberry and Reeve Carney, stars of Broadway's Spider-Man:Turn Off the Dark
City Hall Lawn
7:30pm-9:30pm
Performances by In Motion dancers, Rock Fire, Island Teaser, DanceSations and TROIKA as well as spoken word artist Tiffany Paynter; ecoRUNWAY trash fashion show by Bermuda High School for Girls
City Hall steps
8:30pm-9:30pm
Walk of Flame celebrating Earth Hour
begins and ends at City Hall
Details
Below is a list of those signed up to switch off for Earth Hour 2014 in Bermuda.
Details
Each year, Greenrock works with the Earth Hour Council to organize and promote Earth Hour in Bermuda.
Last year, more than 30 businesses around Hamilton switched off their lights, which helped set the mood for the 250 'Glow in the Dark' fun walk/run participants. Click here for our review of Earth Hour 2013.

Join us in uniting people to save the planet in 2014.
Switch off non essential lights on Saturday 29 March at 8:30pm.
Make sure non-essential lights in your buildings, facilities and signage are switch off during Earth Hour from 8:30pm to 9:30pm on Saturday 29 March 2014. For larger buildings, plan ahead with facilities and building managers to manage the logistics of switching off non-essential lighting for Earth Hour – including neon lights – in and around your properties.
Sign up to switch off by completing the Business Participation Form below.
It only takes a minute!
{rsform 9}
For more ideas on how your business can get involved, please contact Rolisa Camille at This email address is being protected from spambots. You need JavaScript enabled to view it. or 533-5683.