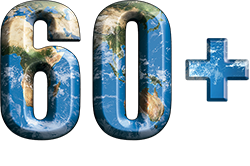 What is Earth Hour?
Starting as a symbolic lights out event in Sydney in 2007, Earth Hour is now the world's largest grassroots movement for the environment, inspiring millions of people to take action for our planet and nature.  From pushing for environmentally-friendly laws and policies to eliminating single use plastics, our individual actions make Earth Hour possible. Coordinated by WWF and other volunteer organisations, Earth Hour's greatest strength is the power of people.  As accelerating climate change and staggering biodiversity loss threaten our planet, Earth Hour endeavours to spark never-before-had conversations on the loss of nature and the urgent need for us to protect it.
Since 2008, Greenrock's acknowledgement of Earth Hour has evolved into an annual educational campaign, a host of fun-filled family activities and a public celebration.   This year the theme of our campaign is Energy Efficiency and WEDCO will be hosting both our expo and our annual celebration in Dockyard on Saturday March 30th.  Earth Hour is also an important fundraiser for Greenrock. Funds raised for this event support our environmental education programs, public advocacy work and our position as Bermuda's premiere sustainability NGO.
Going Beyond Earth Hour
Earth Hour itself is just one hour - held on the Saturday closest to the Spring Equinox. However, it is also a rallying call for all of us to 'go beyond the hour'. Climate change and the challenge of sustainability is not restricted to one hour a year - the challenge is constant, and this event helps support us in rising to the challenge.
How can you go beyond Earth Hour?
Firstly, you can support Greenrock by becoming an individual or corporate member.
Secondly, you can assist with specific programs by volunteering or donating to us.
Thirdly, there are steps you can take in your personal life to be more green.
Also, at the workplace you can join your Green Team to help make sure your workplace is doing its part to be more sustainable. And if you don't have a Green Team, that's okay - we can help you start one!
Email us at This email address is being protected from spambots. You need JavaScript enabled to view it. for more information!
Earth Hour Event Details
Date: Saturday March 30th, 2019 from 3pm - 11pm
3pm: 25K Family Bike Ride featuring e-bikes from City Hall to the Clock Tower Mall
4pm: Energy Efficiency Expo in Dockyard featuring business who offer energy efficient technologies
6pm: 5K Run in Dockyard from the North Lawn to Greys Bridge and back
7pm: Live Entertainment and speeches from members of the Earth Hour Council
8:30pm: Lights Out featuring the 5K Glow Fun Walk & Glow Flow Yoga with Lucky Elephant
9:30pm: More Live Entertainment and a Beyond the Hour Glow Party on the North Lawn Stage
Click here for more info about how to get involved.
Please note the following:  
Additional ferries between Hamilton and Dockyard will run to bring participants to and from the event
Organizations are encouraged to enter teams to compete for prizes in the Earth Hour activities.