Welcome to Greenrock
Greenrock is working to empower individuals and companies to do their part in making Bermuda socially, economically and environmentally more sustainable.
Details
Green School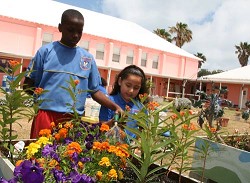 Greenrock is working to develop a "Green School Accreditation" program for schools to adopt measures and best practices, including ways to reduce energy and waste consumption, using environmentally-friendly, non-toxic cleaning products and implementing indoor air-quality measures.
Latest News from Greenrock
---
Check out some of our latest news and what's happening at Greenrock.