Welcome to Greenrock
Greenrock is working to empower individuals and companies to do their part in making Bermuda socially, economically and environmentally more sustainable.
Bermuda Marine Debris Task Force (BMDT)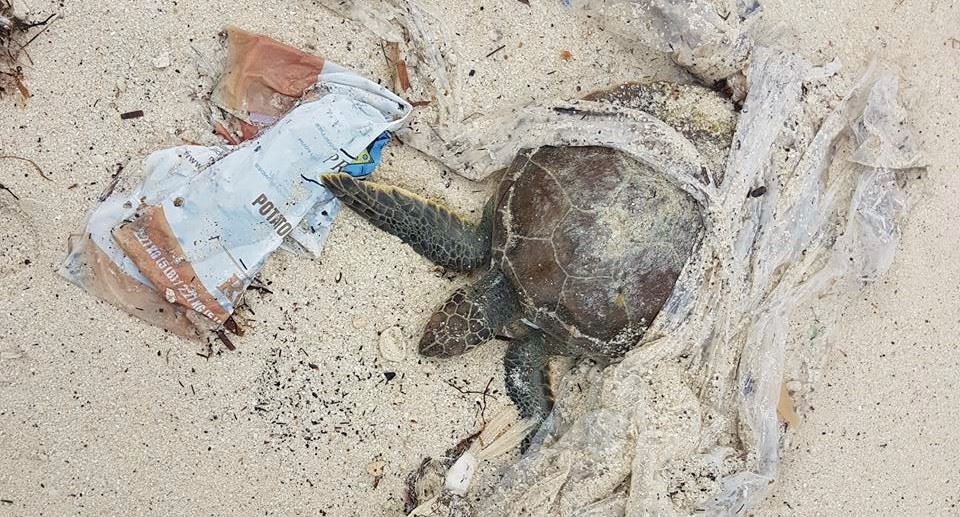 Bermuda Marine Debris Task Force has been around since 2011. It functions as a collaboration with both scientific and environmental organizations who have the shared aim to educate, study effects of, develop solutions, and coordinate locally for the removal of plastic debris.  Marine life is severely at risk due to the plastic pollution in our waters and the impact it has on our environment.
Hydration Stations
---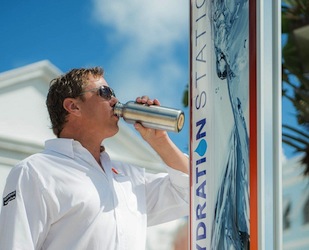 Greenrock has six Hydration Stations throughout the City of Hamilton.
Hydration Stations are the first and only public water-bottle filling stations in Bermuda, and provide a modern alternative to public water fountains - and, importantly, provide a hygenic alternative to single-use water bottles.
Why Hydration Stations?
Reduces plastic water bottle use;
Promotes a healthy lifestyle;
Provides the community and tourists with access to a convenient source of safe, filtered drinking water;
Our Hydration Stations are serviced by Watlington Water and provides healthy drinking water.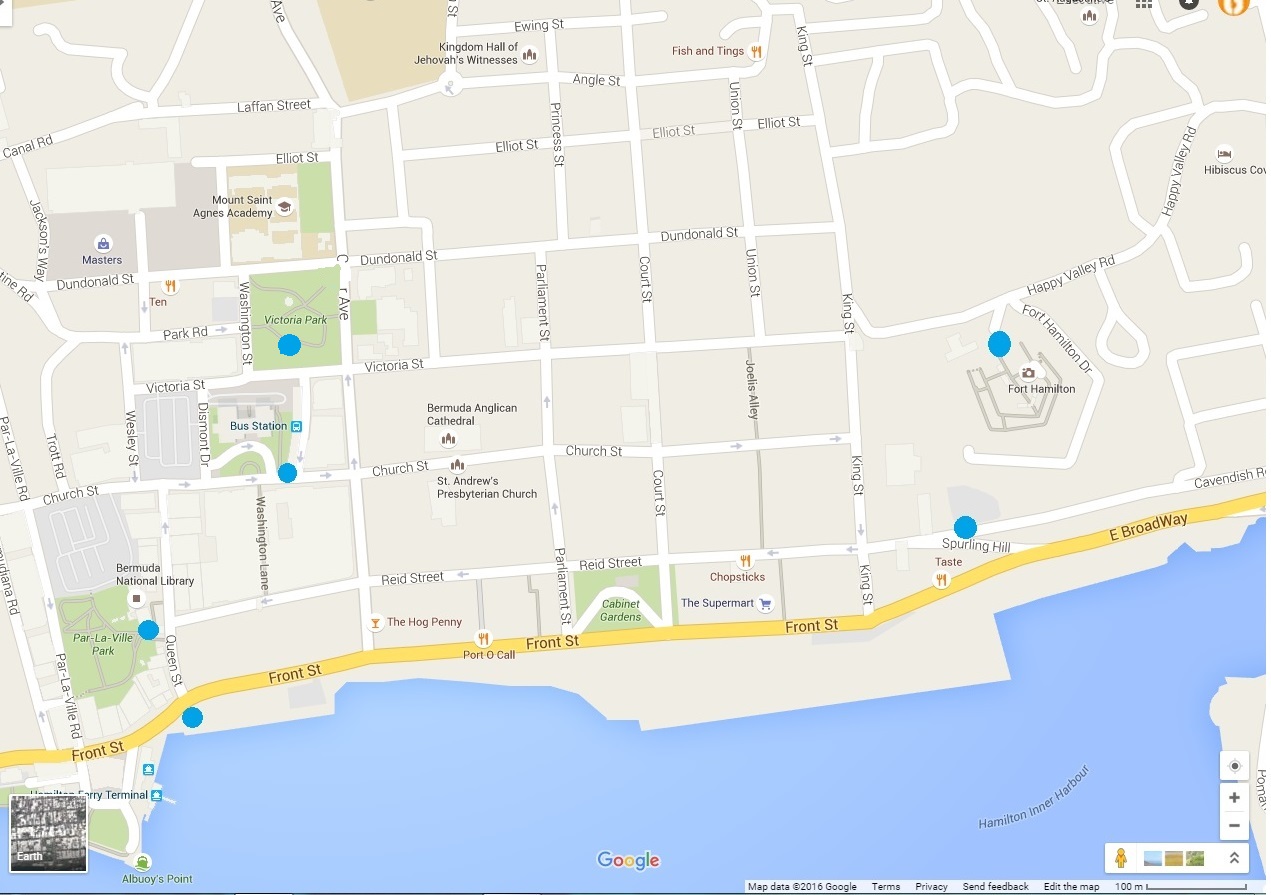 Offshore Wind Research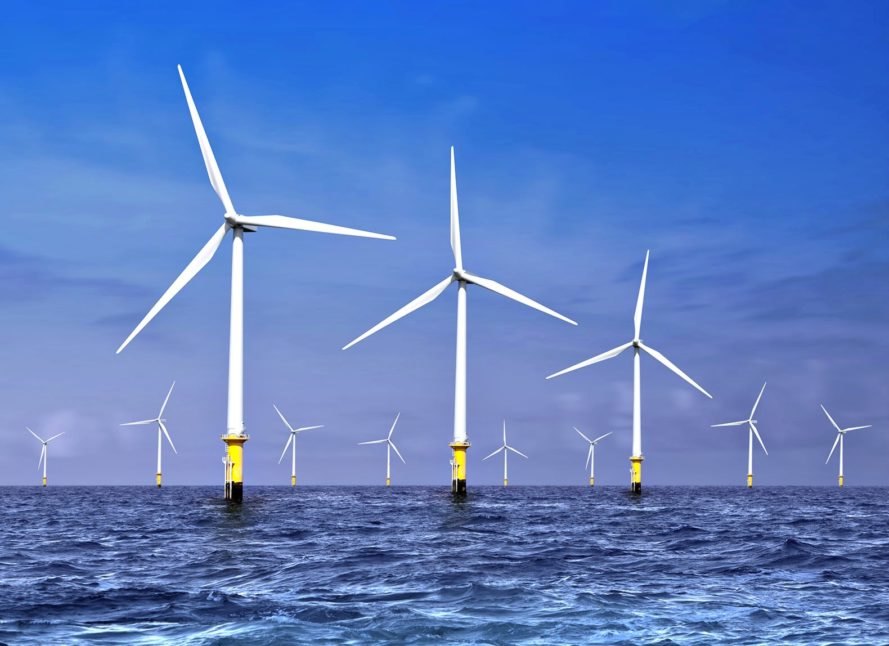 Friday, July 8, 2022
Greenrock commissions Offshore Wind Experts to accelerate Renewable Energy deployment
Bermuda's greenhouse gas emissions need to reduce 60% by 2030 to align with international efforts to limit global warming to 1.5 degrees centigrade. If warming exceeds this level, the risks of ocean acidification along with several other environmental threats to the island can increase significantly.  It is also important to acknowledge the fact that there are communities surrounding our existing electricity generating power plant that continue to endure health, property and environmental challenges due to their proximity to fossil fuel smokestacks.  Addressing this should be a matter of national interest and attempts to find solutions should be pursued with urgency. 
In light of these realities, Greenrock is working hard to produce the data and research required to accelerate the deployment of affordable renewable energy. Of the various renewable technologies available to Bermuda, offshore wind and solar have consistently been identified as the most mature renewable energy technologies that are suitable to achieve this goal.
Greenrock welcomes the progress that has been made to date, by the Bermuda Government and the Regulatory Authority, in considering offshore wind as a key potential element of a sustainable, low carbon energy system for Bermuda. We now seek to build on this work and accelerate progress through working with a UK based engineering company, BVG Associates (BVGA), who have over a decade of expertise in delivering offshore wind. 
Working with BVGA, we have identified a series studies, which are now instrumental in progressing an offshore wind project in Bermuda:
An independent review of work carried out to date, including a comparison with offshore wind industry good practice, and the identification of priority actions required to help understand if offshore wind is viable for Bermuda

A detailed cost of energy assessment, to determine with confidence the likely range of costs for electricity that could be delivered by an offshore wind farm in Bermuda

Modeling of Bermuda's electricity system, to understand the combination of technologies that will be required to deliver an affordable, reliable and low-carbon electricity supply that contains large amounts of intermittent renewable energy

Industry standard wind resource assessment

Industry standard spatial assessments, to complement existing work being done in this area

An offshore wind roadmap, outlining step-by-step how an operational offshore wind farm can be delivered in Bermuda
If the outcome of these studies is successful, Greenrock also plans to initiate a revenue-grade (Light Detection and Ranging) LIDAR wind data collection campaign
These studies will help to determine if offshore wind is technically and commercially feasible for Bermuda, how much electricity from offshore wind is likely to cost, and assuming it is feasible they will also outline how Bermuda can deploy offshore wind in line with industry good practice.
We are pleased to announce that the first of these studies has now been completed, and is available on our website for key stakeholders and the general public to review.
To review the study or find more information about the work we are doing around offshore wind, please visit our website www.greenrock.org.  
This important work is only possible thanks to the tireless efforts of our active members, private contributions from our community, and generous donations from sponsors in the private sector. We would like to thank everyone who has contributed to making this work possible, and also to make it known that sponsorship opportunities are now available for the remaining reports and studies. This will help provide the continued financial support required to complete this work.
For all those interested in learning more about this initiative, Greenrock will be hosting an open forum in the BUEI Auditorium from 12pm - 2pm on Friday, July 22  featuring Director Chris Worboys and the Offshore Wind Experts that have been commissioned from BVG Associates.  The goal of the forum is to discuss the data from the study that has been completed, present initial results from the second study exploring the cost of energy from offshore wind, answer questions about the project, explain how this research initiative can be used to accelerate renewable energy deployment in Bermuda, and share information about the funding required to complete the studies that have been planned in a timely fashion.
Reports
1. Bermuda offshore wind: Key publications review and priority actions    click here to view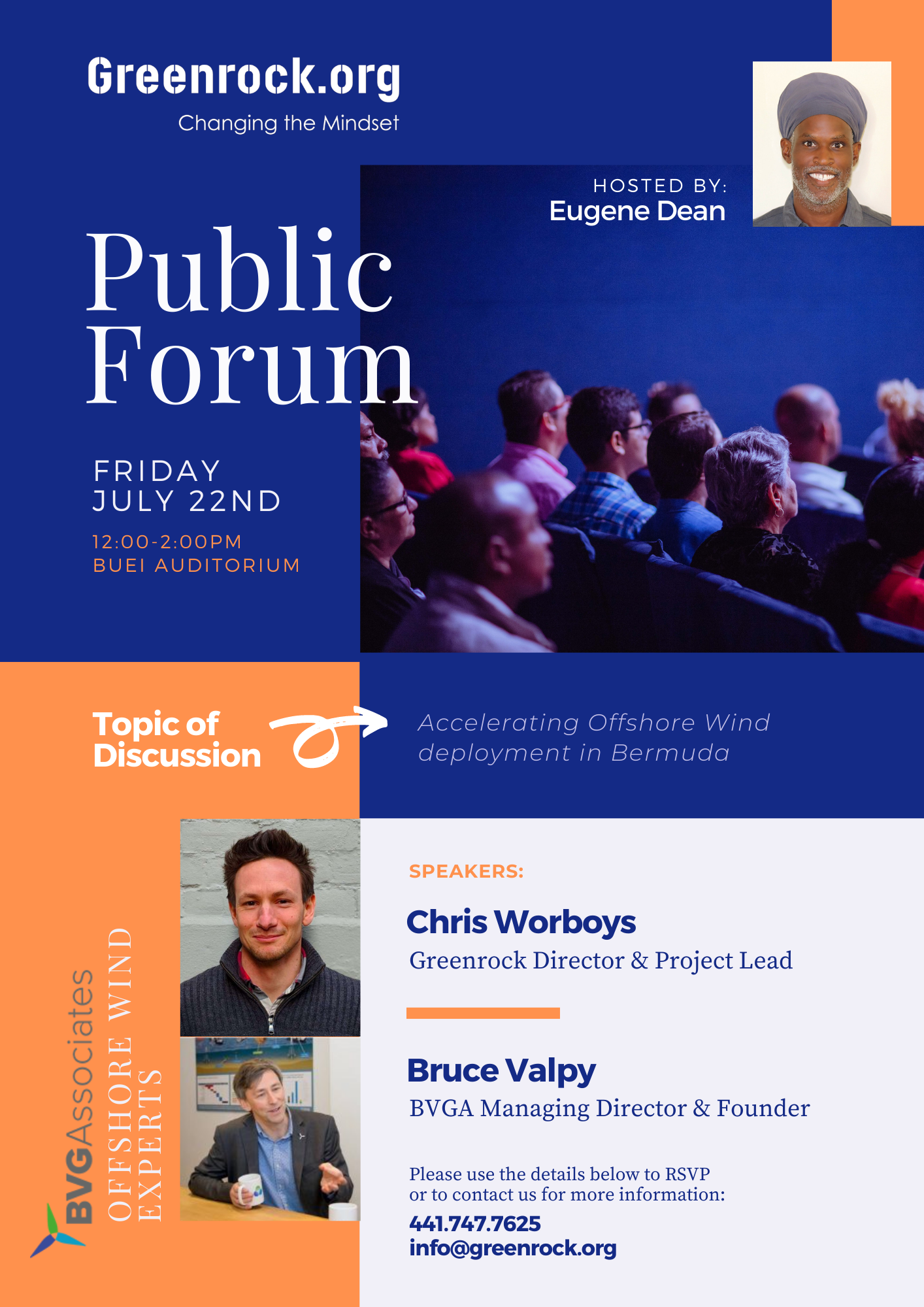 Latest News from Greenrock
---
Check out some of our latest news and what's happening at Greenrock.