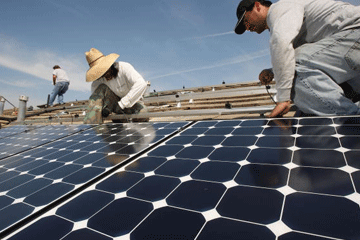 Solar power is being adopted on the Island at an increasing rate, with the number of applications for solar developments doubling year-on-year.
According to a Government spokesperson, 51 applications were made for solar developments in 2011, more than four-times more than were submitted in 2009.
"There is certainly more interest in renewable energy technologies, but there are also more people in a position to actually install what has been approved," the spokeswoman said.
"Often times a Planning Approval may be granted with no building permit for that approved development. This is not the case with recent solar developments, with slightly more solar thermal (in other words, solar hot water) than solar photovoltaic panels."
According to Government statistics, there were a total of 12 planning approvals for solar developments in 2009, but that number more than doubled in 2010 with 26 applications approved.
In 2011, a total of 51 applications were made for solar developments, with 39 having already been approved and others still going through the planning process.
The spokeswoman said that Government hopes to see the exponential increase continue this year in order to meet the goals set in the Energy White Paper.
"With the proper incentives, we believe that we will see even more applications in the coming year, despite these trying economic times," she said. "Despite the initial outlay of cash it is a wise long-term economic investment for families.
"The combined efforts of the Department of Planning and the Department of Energy in enforcing the goals of the Energy White Paper demonstrates yet another example of the interdependency between Government Departments within our Ministry as well as reaffirming the Ministry's commitment to lead Bermuda toward sustainability by protecting our natural and built environment."
In recent years Government has put forward numerous incentives to encourage the adoption of small-scale renewable energy systems, including a solar panel rebate scheme and zero-rate import duty on items for use in harvesting power from renewable sources.
Included in the customs tariff are solar thermal water tanks, ocean-powered generating sets and grid tie photovoltaic inverts.
Another notable step was Belco's Interconnection Policy, which allows members of the public to put excess energy back into the electrical grid, and be paid for it.
A Belco spokeswoman said that there are currently 43 customers taking part in the scheme, an increase of 23 in the last year.
Along with numerous homes, businesses have jumped on the solar bandwagon, with the Lindo's Group, Gorhams and even Belco applying to install solar devices at their facilities.
Stuart Hayward, chairman of the Bermuda Environmental Sustainablility Taskforce (BEST), said the statistics were encouraging.
"We think it's great that more people are diversifying their energy sources and there is still much to be done in moving toward reduced consumption of energy, especially waste," he said.
In order to continue the rate of adoption, Mr Hayward said that Government needs to ensure that the planning process is as streamlined as possible, without sacrificing regulatory oversight.
He also suggested a "beefed-up" staff level to handle the applications so that tasks are not short changed or short circuited, creating a more consistent assertive attitude towards enforcement and maintaining adequate levels of enforcement equipment and personnel.
To access the original article, click here.