In addition to the Management Committee, Greenrock relies on guidance and networking provided by an Advisory Panel. Most importantly, Greenrock is constantly in contact with those individuals who have registered on our website as online members.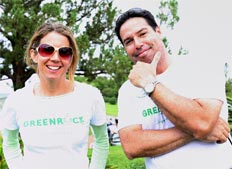 Over the years, Greenrock has been fortunate to benefit from the dedication, insight and resources of several key volunteers: Amy Adderley, Tim Madeiros, Laura Semos, Robert King, Mark Booth, Sakeena Talbot, Doyle Butterfield, Tina Booth, Milton Raposo, Lindsey Ternent, Jenni Paradine and Erin Moran (co-founder and past President).
Greenrock has also managed to build important relationships with several local NGOs, as well as international NGOs and education institutions. These international organisations have proved vital when it comes to initiatives around sustainable development – such groups as WWF, Union of Concerned Scientists, Harvard, MIT, UC Berkeley, Arizona State University and St. John's University.
Today's Management Committee is helping Greenrock navigate through the challenges of making sustainable lifestyle choices in Bermuda, whether we are talking about our National Energy Plan, water conservation, alternative transportation, green schools and offices, building planning, development and design, eco-friendly consumer products, and promoting healthy lifestyle choices.
Our team is made up of a diverse group of people with a range of educational, professional and community experience. This diversity helps us discuss issues, plan events, and identify and prioritise projects. Amy Harvey, Kiernan Bell, Felix Tod, Dave Zuill and Robin Gray have been working on the Committee since 2007. Some new additions in the last year or so have been Nick Campbell, Lorissa Peters, Judith Landsberg and Michael Burke. Most recently, Michael Jardine and Eugene Dean have accepted positions on the Committee.
As we build new projects and events, we are always seeking those interested in helping us by serving on any of our sub-committees. The time and effort given to these groups also helps us identify future candidates for our management team. If you are interested, please send a note to This email address is being protected from spambots. You need JavaScript enabled to view it..
In 2008, Greenrock hired an executive assistant on a part-time basis. This paid position helps with the day-to-day administration of the charity. Rowan Hallett has become a valuable addition to Greenrock and plays the important role of keeping our management team of volunteers aware and responsive to issues raised at monthly meetings.