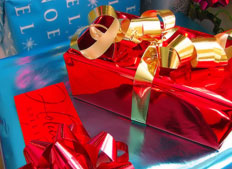 Make Your Holiday Gifts a Little Greener
When the holidays roll around each year, many of us greet the season with a mixture of excitement and dread. We want to spoil our loved ones rotten with fabulous gifts, but we struggle stay in control of the budget and think of something new and interesting to give. Add to this the longing to be environmentally conscientious in our purchasing and many of us feel overwhelmed.
This holiday season, consider these eco-friendly gift suggestions that accommodate diverse budgets but won't compromise your values. Don't forget to check out Greenrock's Top Ten Green Websites, too – many of them feature great ideas for greener giving.
Does your loved one have a penchant for electronic gadgets? Reusable batteries and a charger set will save them money and shopping time, and reduce the chances that those one-use batteries will end up in the trash rather than being properly disposed of at Tynes Bay.
Consider these technologically savvy yet sustainable stocking stuffers for grown-ups, or pack them all in a reusable bag as a new take on the traditional gift basket.
CFL light bulbs: they last eight times longer than incandescents and cut home lighting energy use by 75%.
A tyre pressure gauge: properly inflated tires extend tire life by up to 25% and increase fuel efficiency.
Faucet aerators: a simple aerator installed on any bathroom tap saves up to a gallon of water per minute from going down the drain.
A Smart Strip power strip: this power strip offers power surge protection and line noise filtering, but also turns off peripheral electronics, like your printer, when they're not in use.
A reusable water bottle, such as those by Sigg, so your loved one stops using non-biodegradable disposable plastic ones.
Don't just focus your attention indoors. Why not plant a tree for them? Consider giving an endemic favourite like a cedar or olivewood for shade, privacy and oxygen, or a fruit-bearing tree such as a peach or orange. Want to really personalize it? Consider working with the kids on a little wooden plaque to plant next to the tree.
Do they like to garden? Hate taking out the trash? Consider a composter so they can make their very own rich, organic, fertile soil for the garden and lawn. They'll be able to reduce their waste output by up to 30% by diverting organic matter to the composter. To buy a composter, contact the Waste Management Section of the Ministry of Works and Engineering at 297-7946 or visit www.wastemanagement.gov.bm.
Pay for a service you know they'll use, such as a gift certificate to a salon, a round of golf, dinner out, a movie of their choice. Just remember to inquire about the terms and conditions of any gift certificate (such as expiry date, what happens if the certificate is lost and so on) and pass this information along to the recipient.
Do they grimace every time someone takes a shower, calculating how much water just went down the drain and how long before they'll have to order a truckload of water? Consider giving a low-flow showerhead and installing it for them. These showerheads still supply ample water pressure but reduce bathing water consumption by up to 70%.
Spend an afternoon with the kids preparing delicious homemade goodies for those who don't have the time or aren't able to make any themselves. Use local and organic ingredients where possible and decorate reusable containers.
Consider an electricity usage monitor that can be connected to appliances around the home to assess how efficient any appliance or machine really is and forecast energy costs by the day, week, month or year. It'll be an eye-opener for them and a great way to help them reduce their electricity bill.
A donation to a local charity in their name, supporting a concern that is dear to their heart, is always a great gift. Is he an animal lover? The SPCA. Does she bemoan how Bermuda is being paved? Save Open Spaces. The lack of affordable housing in Bermuda? Habitat Bermuda. The possibilities are endless to tailor gifts specifically to your family and friends. For a complete list of local registered charities, visit the Centre on Philanthropy at www.centreonphilanthropy.org. Of course, giving to Greenrock is always tops on our gift-giving list!
For kids, why not adopt their favourite animal in their name? The World Wildlife Fund has more than 90 options, ranging from polar bears to Tasmanian devils. Kits range in price and all include an adoption certificate. Many smaller animal-based charities also have adoption programmes so you can support your favourite.
Get them a water heater timer so they can start saving 5 to 12% on their electricity bill. For approximately $60, they'll no longer be paying for water to be heated all day and all night, and you can easily install it yourself.
If they truly already have it all, don't underestimate the power of giving your time. Give help with household and gardening chores to those who aren't able to do it themselves. Spend a few evenings babysitting for friends who never get an evening to themselves. Invite an elderly neighbour out for lunch or tea. Take your nieces, nephews or godchildren for a fun day out. Or donate your time to a charity that your friend or relative supports.
When you're out shopping for more traditional gifts, remember to look for those that are marked Fair Trade, recycled (and recyclable), organic, sustainable and/or environmentally friendly … and don't forget your reusable shopping bag!