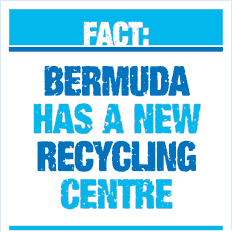 Recycle Bermuda!
Recycling is an integral part of Bermuda's waste management that helps our facilities work efficiently as well as reducing our impact on the environment.  Our recycling programme saves natural resources, conserves energy and improves the efficiency of our waste-to-energy incinerator. 
 
In order to meet Bermuda's current and future recycling needs, the Ministry of Works and Engineering has built a new state of the art Recycling Centre located at the Government Quarry Depot in Hamilton Parish.  This new facility opened on April 2nd and will be processing tin, aluminium and glass containers - T.A.G. The tin and aluminium will be baled and shipped overseas for recycling, whereas the glass will be crushed and used on island.

 
How it can be done in Bermuda:


Recycling needs to become an inherent behaviour for all Bermuda residents. The Ministry of Works & Engineering also launched a National Recycling Campaign to improve participation and recycling volumes in the community.  In order to lead by example, Government has also made it mandatory that all government workplaces must recycle effective from April 2nd 2007.
 
Recycling is a partnership between the Government, every organization and each resident, all of whom have a stake in Bermuda's future.

The Tyne's Bay Drop Off facility has two bulk containers for recyclables that the public can use seven days a week from 7 a.m. until 7 p.m.  If the public wishes to deliver their recyclables to the Devon Spring plant, the opening hours are 7:30 a.m. to 12:00 p.m. and 1:00 p.m. to 3:45 p.m. Monday to Friday.  The Contractor collects residential recycling from households and condominiums.  Collection days are Thursdays in the west end of the island and Fridays in the east end of the island.
ADDITIONAL INFORMATION (www.gov.bm )
Bermuda Ministry of Works and Engineering | Waste Management Section

The Process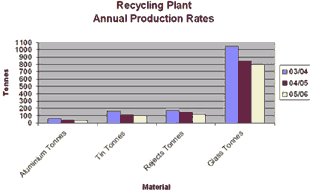 The first step of the recovery process is at the in-feed belt where bags of recyclables are loaded.  They are then sent up the belt to the bag breaker which tears open the blue bags and leaves the recyclable materials on the belt.  The next phase is the sorting line where reject items are taken out of the recycling process by hand.  After this, there is a magnetic separator which pulls tin cans or other material containing iron from the belt and directs this into a hopper.  The glass recyclables go through a breaker before being crushed and sorted into two grades: 3/8 inch to 1/8 inch, and 1/8 inch to sand.  Once the glass is crushed it goes through a trommel that filters the glass from reject material (straws and paper stuck to the glass) and then the clean glass ends up in a storage bin. After glass and tin have been removed, the remaining material passes through a multi source separator (MSS), which uses induced electrical to detect the aluminium and air jets to direct the cans into the aluminium hopper.  Now that all of the material to be recycled has been separated out from the in-feed belt, the rejected items are squished in a trash compactor and taken to the incinerator.
 
The aluminium and tin will be baled and shipped to recycling facilities in the U.S. for processing and remuneration.  The crushed glass product can be mixed into aggregate for asphalt or used as free-draining fill in various construction applications.
 
It is very important that residents remove lids and corks and clean their cans and glass containers before placing them out for collection in blue bags.  Liquids and food remnants attract pests, make life unpleasant for plant operators and can make the equipment work less efficiently and even damage it.  Regular trash should not be put in your blue bags as regular wet domestic trash will also cause problems at the new recycling centre.   Remember tin, aluminium, and glass containers only-T.A.G.
Did You Know?
The energy saved from one recycled Aluminium can will operate a television set for 3 hours!
Because glass does not decompose, the bottle you throw away today will still be littering the landscape in the year 3000!
Composting kitchen scraps and garden waste can reduce your household trash by approximately 1/3!
It takes one 15-20 year old tree to make only 700 brown grocery bags.  Try to use re-usable cotton bags when getting your groceries!
Tyne's Bay Incinerator processed 68,000 tonnes of garbage in 2005.  That is approximately 1.5 times the weight of the Titanic cruise ship!
Tyne's Bay Incinerator produces 24,000,000 kilowatt-hours per year on average.  This could light up 45,000 household 60W light bulbs or 3000 homes!
If we were to line up all the truck loads of residential trash that is collected in Bermuda over a year will the line of trucks would be 28.4 miles long!
Recycling one aluminium can saves the energy equivalent of one cup of gasoline.
Each pound of aluminium makes 32 cans!
If we were to include all of the waste produced in Bermuda over a year this would amount to nearly 10 tonnes per person per year for every resident!