Each year, Greenrock recognizes all types of businesses, organizations and individuals for their environmental and sustainability efforts.
We're proud to announce the winners of our 2013 Green Workplace Awards.
Winners of the 2013 Green Workplace Award were profiled in the March 2014 issue of The Bottom Line magazine.
Read all about our 2013 award winners below, or visit our Green Workplace Awards page to learn how to enter or nominate a Green Champion.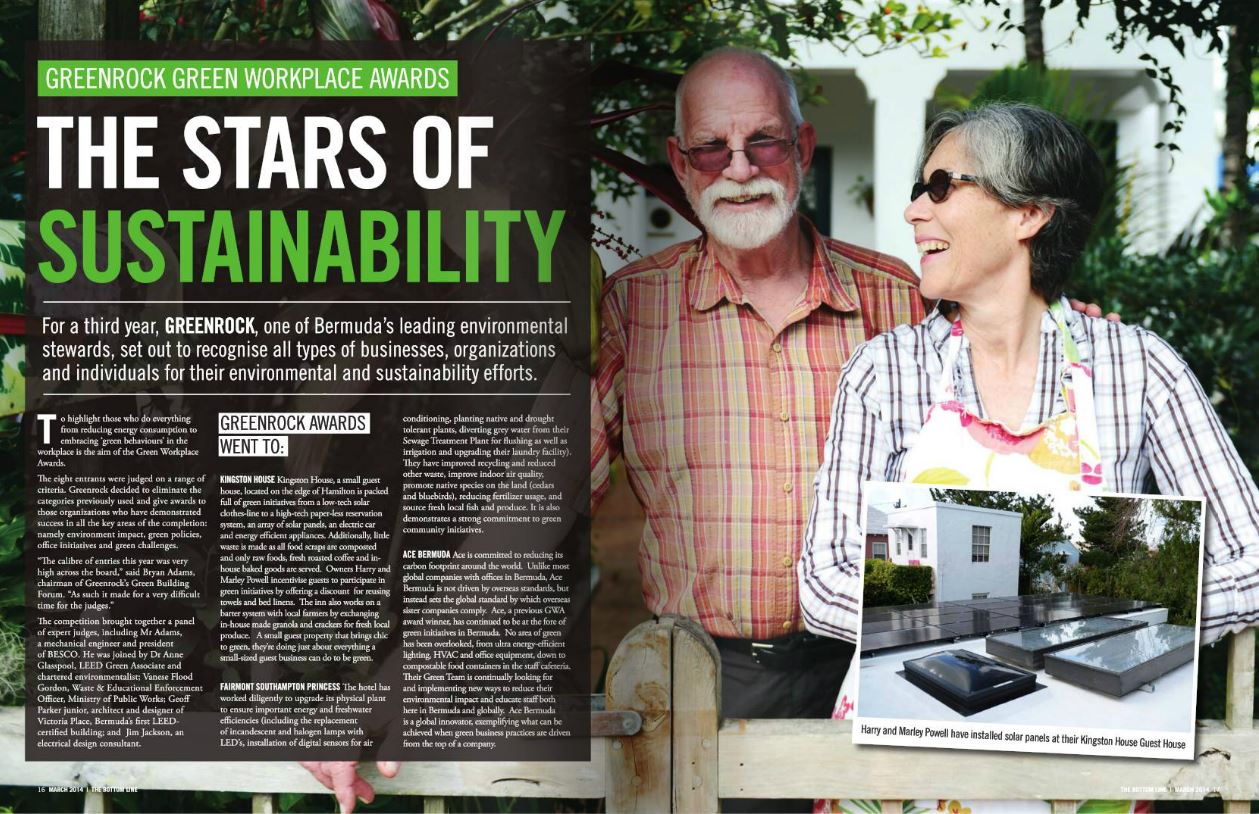 2013 winners are profiled in the The Bottom Line March 2014 issue.
The winners were announced by Greenrock President Gordon Johnson.
This year we had eight entries and as such decided to eliminate the categories and give awards to those organizations who have demonstrated success in all the key areas of the completion, namely Environment Impact, Green Policies, Office Initiatives and Green Challenges. The calibre of entries this year was very high across the board. As such it made for a very difficult time for the judges. The judges wish to recognize all those who did not receive the award with an honourable mention.
The 2013 Green Workplace Award winners are...
Kingston House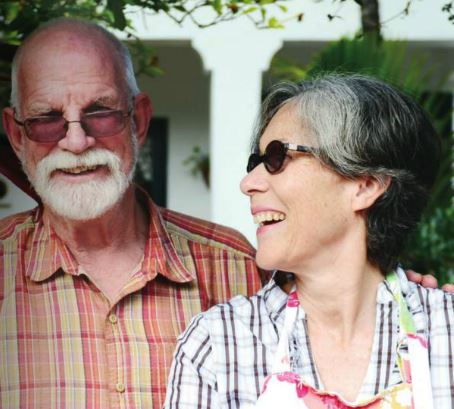 Kingston House owners Harry & Marley Powell
Kingston House, a small guest house, located on the edge of Hamilton is packed full of green initiatives from a low-tech solar clothes-line to a high-tech paper-less reservation system, an array of solar panels, an electric car and energy efficient appliances. Additionally, little waste is made as all food scraps are composted and only raw foods, fresh roasted coffee and in-house baked goods are served.  Owners Harry and Marley Powell incentivize guests to participate in green initiatives by offering a discount  for reusing towels and bed linens.  The inn also works on a barter system with local farmers by exchanging in-house made granola and crackers for fresh local produce.   A small guest property that brings chic to green, they're doing just about everything a small sized guest business can do to be green.
Fairmont Southampton Princess
The hotel has worked diligently to upgrade its physical plant to ensure important energy and freshwater efficiencies (including the replacement of incandescent and halogen lamps with LED's, installation of digital sensors for A/C, planting native and drought tolerant plants, diverting grey water from their Sewage Treatment Plant for flushing as well as irrigation and upgrading their laundry facility). They have improved recycling and reduced other waste, improve indoor air quality, promote native species on the land (cedars and bluebirds), reducing fertilizer usage, and source fresh local fish and produce. It is also demonstrates a strong commitment to green community initiatives.
ACE Bermuda
ACE is committed to reducing its carbon footprint around the world.  Unlike most global companies with offices in Bermuda, ACE Bermuda is not driven by overseas standards, but instead sets the global standard by which overseas sister companies comply.   ACE, a previous GWA award winner, have continued to be at the fore of green initiatives in Bermuda.  No area of green has been overlooked, from ultra energy efficient lighting, HVAC and office equipment, down to compostable food containers in the staff cafeteria.  Their Green Team is continually looking for and implementing new ways to reduce their environmental impact and educate staff both here in Bermuda and globally.  ACE Bermuda is a global innovator, exemplifying what can be achieved when green business practices are driven from the top of a company.
Honorable mentions go to the following:
Catlin
A previous GWA honourable mention award recipient, Catlin continue to demonstrate commitment to the environment, both locally and throughout their local and global education initiatives including Catlin Explorers, Coral Oceans Educational Program and Kids on the Reef.  
Dolphin Quest
A new and welcomed entry, Dolphin Quest are to be commended for their efforts to reduce the impact of their operations on the environment and educate their guests on environmental and conservation matters. The staff are to be commended too for their volunteer efforts in many local projects and programs including turtle tagging, The International Coastal Cleanup, Reef Watch and the Lionfish Task Force.
BELCO           
BELCO impressed the judges as the only company in Bermuda to have achieved ISO 14001 certification, which has seen the voluntary implementation of a comprehensive environmental management system resulting in significantly improved environmental standards throughout their facilities.
City Center Properties  
Retrofitting an older building to be more energy efficient presents some serious challenges,  but the building's owners and advisors were determined to make this landmark building just that.  By installing energy efficient lighting and retrofitting the existing 20+ year old HVAC system Cumberland House has reduced their energy consumption significantly.  These savings will go into further energy efficient technologies through realized savings.  In an era where there is a glut of office space in the City of Hamilton, landlords need a competitive edge to attract and keep existing clients.  Cumberland House is a trend-setter in reducing energy consumption in an older building and keeping costs down for it's tenants.
Department of Airport Operations
A previous GWA honourable mention recipient, the DAO continue to improve their environmental impact and have recently completed an upgrade to LED lighting for the runway which is saving over $50,000 per year in operating costs and improving runway visibility and therefore safety. Bermuda is the first airport in North America to install this LED technology for edge-way lighting.
Green Champion: Terry Battersbee, Food Raising Coordinator, Daily Bread
Daily Bread and their program of recycling food that would otherwise be thrown out is a good example of a sustainable model of food distribution in Bermuda. As a result of their efforts, many people now think of them first as they plan their events with the knowledge and comfort that Daily Bread will pick up and get unused food to less fortunate people in our community in a timely and safe way.
Terry builds relationship with people who are capable of making the decision to call Daily Bread rather than throw the excess food out.  
Nominated by Mr Gordon Johnson
Judges:
Dr. Anne Glasspool, LEED Green Associate and chartered environmentalist
Vanese Flood Gordon, Waste & Educational Enforcement Officer, Ministry of Public Works
Geoff Parker Jnr., architect and designer of Victoria Place, Bermuda's first LEED certified building
Jim Jackson, electrical design consultant
Bryan Adams, mechanical engineer and President of BESCO