The impact of a 100MW wind farm in Bermuda would be huge. To put this into context, Belco can currently generate a maximum of 165MW, and to date, the highest summer peak demand of 122.8 MW was recorded in August 2010.
bermudawind.com describes the year-long project as follows;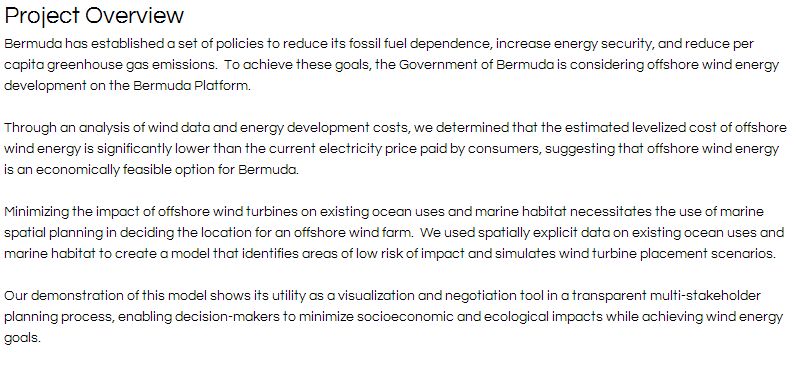 Dr. Grant Gibbons, Minister of Education and Economic Development and Jeanne Atherden, Minister for Health, Seniors and the Environment recently received the final report from the University of California [UCSB] entitled, 'Offshore Wind Energy in the Context of Multiple Ocean Uses on the Bermuda Platform'.
The Offshore Wind Energy Study was undertaken by graduate students of the Bren School of Environmental Science & Management, supported by the Sustainable Fisheries Group at UCSB along with the advice and support from technical officers in the Departments of Energy, Environmental Protection and Conservation Services, as well as the Marine Spatial Planning coordinator Kevin Mayall from the Bermuda Institute of Ocean Sciences.
The yearlong research project objective was to assist the Government of Bermuda in evaluating the theoretical viability of offshore wind energy. The project also identified and characterized potential conflicts with other ocean uses and ecological sensitivities, and proposed a spatial analysis model to help identify potential locations for offshore wind development.
The Project was undertaken as a minimum cost collaborative effort between the Bren School and Government in order to provide the UCSB students the opportunity to research and analyze a unique case study that is Bermuda, whilst providing the Government useful theoretical insight into the viability of adopting offshore wind energy technologies for the Island.
Alisan Amrhein, the project manager, said the team developed a spatial analysis model to help to identify possible wind farm locations.
"We provided recommendations regarding the need for a transparent and open planning process," she said. "All Bermudians have a stake in developing a clean energy future for the Island, so we felt it was critical to allow their voices to be included in the planning process."
The Bren students involved in the study were pursuing a master's in environmental science and management. The project served as their thesis.
Although the study concludes that offshore wind is viable, the Government notes that its findings are theoretical and that any potential wind developer considering proposing a wind farm for Bermuda would need to carry out their own research into the practical and financial viability of proposing such a development.
More information about the offshore wind study can be found at www.bermudawind.com
Related local media coverage: