It is the middle of summer: we may have got past Cup Match and Beachfest, but there is a lot of summer to go. Go ahead, kick back and have fun! Global warming? Great – the weather is gorgeous, sunshine is guaranteed! ... But seriously, here are some ways to enjoy summer while still keeping your conscience clear when it comes to our environment. You will also save you money to spend on another drink or a new swimsuit.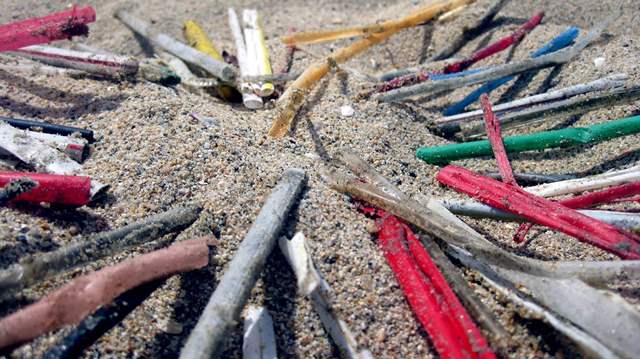 Don't take straws to the beach. Plastic straws are usually one of the top 10 items to be found in trash on the beach."We're going to the beach": If you are taking a picnic don't pay extra for snack size servings in the store, or for containers that you are just going to chuck out. Buy your snacks and drinks in bulk and pack single-size servings in containers from home. Try to bring drinks in glass bottles that you can recycle – rather than plastic that just ends up in over-flowing garbage bins. If you do buy drinks at the beach – say 'no thanks' to the straw! Plastic straws are routinely one of the top 10 items to be found as trash on beaches around the world during the International Coastal Cleanup, ask yourself if you can do without!
If you want to rent a boat try renting a sailboat and save on fuel. (Photo by Kyle Hunter)"I hate sand, we're out on the boat": If you are renting or borrowing a boat – what about making it a sail boat and save on fuel costs? There are great party options available sailing catamarans or single-hulls, or try it yourself with a smaller rental. If you are having a party on your boat – once again bring your snacks and drinks in large containers and provide durable glasses and plates, rather than disposable plastic – with a little advance thought packing and washing these glasses and plates is easy! If you are out in a power boat then remember the turtles, which are often injured by boat propellers. Watch for signs reminding you of areas where turtles are common, and keep an eye out for them at all times – a turtle sighting is always a thrill, and will also help you steer clear and protect them!
"Too hot here, we're going away": Don't forget to turn off your AC, fans and hot water heaters. If you really need your AC to keep the mold away, then set it to 'dry' mode, or turn the thermostat up to save energy and money. One fact of life in Bermuda is that checking out for a weekend or a week usually means flying and therefore contributing greenhouse gases to the atmosphere. Consider 'offsetting' your flight by paying a couple of dollars extra to a program that plants carbon-dioxide-absorbing trees; most airlines offer this as a checkbox option. Even better – and more fun – plant your own! If you don't have space, then ask a neighbor, or your school or church, if you can plant on their grounds. Make it a tradition when you fly with the family to plant a tree before you go. Bermuda's own charity, Save Open Spaces, will even supply native and endemic trees for you to plant.
"We're just staying home and chillin'": Great choice, what better place to be? Most of us sleep with the AC on, but take your blanket off and turn the thermostat up a couple of degrees; turn the fan on as well, you'll feel cool and save big bucks! Try turning off your AC and opening your doors and windows first thing in the morning – the early mornings are surprisingly cool, and that fresh Bermuda breeze smells wonderful, sweeps all the mustiness out of the house, and also takes with it allergens and asthma triggers. A great way to start the day!
For more tips on managing your trash, your energy use, or other ways to reduce your environmental footprint, go to Greenrock's website: www.greenrock.org.
---
This article appears in our regular 'Greenrock Says...' column in the Royal Gazette Green Pages, published on the first Thursday of each month.