REVERSE OSMOSIS - USING CURRENT ENERGY RATES - IS A VERY EXPENSIVE WAY TO GET WATER. NOT ONLY IS ENERGY INTENSIVE, IT ALSO RELIES HEAVILY ON MECHANICAL PARTS. AND HISTORY HAS SHOWN US (LOOK AT NORTH SHORE OSMOSIS PLANT, SEVERAL PLANTS ON THE OLD NAVY BASES) THESE PLANTS ARE PRONE TO FAILURES, WHICH ADDS EVEN MORE TO THE STRAIN, COSTS OF PROVIDING FRESH DRINKING WATER ACROSS BERMUDA. PLUS, THE COST TO MAINTAIN, ASQUISITION OF PARTS, DISPOSAL OF USED PARTS MAKE THIS STRATEGY UNSUSTAINABLE AS A PRIMARY SOLUTION IN THE LONG-TERM.
MOST PEOPLE, WHO READ THE PAPER OR WHO HAVE HAD TO ORDER WATER, KNOW THAT THIS ISSUE HAS BEEN IN THE HANDS OF GOVERNMENT FOR A LONG TIME. IN THE LAST TWO YEARS, WE HAVE SEEN THE COST OF A TRUCK LOAD OF WATER CLIMB FROM $50 TO $75 (AND IN SOME CASES, DUE TO SUPPLY AND DEMAND, EVEN HIGHER). THIS TECHNOLOGY IS NOT THE 'SILVER BULLET' SOLUTION RATHER BUT ONLY SHOULD BE RELIED UPON AS A LAST RESORT.

Do you think the government is doing enough to promote water conservation?
GOVERNMENT CREATED AN ANIMATED CHARACTER CALLED DRIPPY AND CREATED A SHORT LIVED CAMPAIGN AND SHOWCASED IT AT SCHOOLS. BUT THE TRUTH OF THE MATTER, DRIPPY IS NOT GOING TO HELP MOVE PEOPLE TOWARDS WATER CONSERVATION, MORE PRACTICAL GUIDELINES AND ACTIONS NEED TO TAKE PLACE THE EMPOWERS CONSUMERS WITH OPTIONS THAT THEY CAN CHOOSE TO USE. AND THESE OPTIONS NEED TO BE AVAILABLE TO EVERYONE - NOT JUST THOSE WHO CAN AFFORD TO BUY THEM.
WHY HAS GOVERNMENT NOT IMPLEMENTED LOOKED AT THE FOLLOWING IN A MORE COMPREHENSIVE WAY:
1) STRICTER PLANNING GUIDELINES FOR WATER CONSERVATION ON APPLIANCES, BATHROOM FIXTURES, POOLS, PUBLIC BUILDINGS, LARGE MULTI-DWELLING UNITS - AND SET GUIDELINES FOR BERMUDA
2) DUTY TARIF RELIEF ON APPLIANCES AND WATER FIXTURES THAT MEET THOSE GUIDELINES NOTED ABOVE - AT LEAST THEN, IMPORTERS HAVE SOME GUIDELINES ON WHAT THINGS THEY SHOULD BRING INTO BERMUDA - WHICH THEN PROVIDES MORE VARIETY TO THE CONSUMER
3) WHY HAVE WE NOT EXAMINED GREY WATER SYSTEMS - SIMPLE WAYS TO REUSE COLLECTED WATER FROM SINKS, SHOWERS, AND BATHTUBS THAT CAN BE SUPPLIED TO TOILETS OR OUTDOOR LANDSCAPING
4) WHY HAVE WE NOT LOOKED AT WATER RECLAIMATION METHODS FOR LARGE BUILDING COMPLEXES - USING ECO-FRIENDLY WAYS TO TREAT RAW SEWAGE AND EXTRACTING WATER THAT CAN BE USED FOR TOILETS AND LANDSCAPING - WHICH IS FREE FROM HARMFUL CHEMICALS WHILE REDUCING THE AMOUNTING OF SEPTIC WASTE DRAINING INTO OUR AQUAFERS?
5) WHY IS GOVERNMENT NOT DOING MORE ABOUT EDUCATING THE CONSUMER ON MAINTAINING THEIR WATER TANKS AND CLEANING THEIR ROOFS - HELPING PEOPLE LEARN MORE ABOUT CLEANING THEIR WATER TANKS WILL ENSURE THAT THEY ARE REGULARLY CHECKED - FOR LEAKS AND WATER QUALITY?
6) MAYBE GOVERNMENT COULD BE MORE TRANSPARENT IN PROVIDING WAYS FOR PEOPLE TO HAVE THEIR TANK WATER CHECKED, PROVIDING A LIST OF CERTIFIED VENDORS WHO CAN CLEAN ROOFS AND PROPERLY CHECK WATER TANKS, PROVIDE SOME REBATE BACK TO HOME OWNERS TO SIGN UP TO A NATIONAL PLEDGE THAT THEY WILL MAINTAIN THEIR ROOF AND TANK OVER A SET PERIOD OF TIME.

Do you think the water catchment areas could be put to better effect?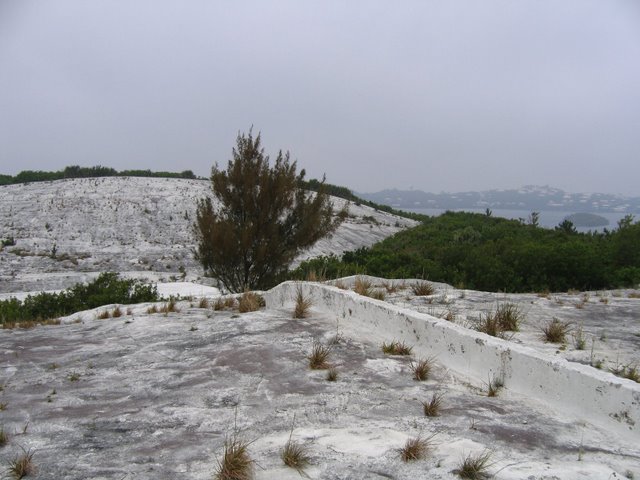 LARGE WATER CATCHMENT SYSTEMS - SOME OF THE MAJOR ONES IN THE EAST END ARE ALL DERELICT. FROM WHAT WE KNOW, THE TANKS ARE BEING USED TO COLLECT OSMOSIS WATER. BY DOING THIS, WE HAVE CREATED A NETWORK OF UNDERGROUND PIPED WATER ACROSS THE ISLAND. BY HAVING SO MUCH OF OUR WATER BEING PIPED, WE EXPOSE OUR WATER SUPPLY TO BROKEN PIPES OR LEAKS THAT WASTE LARGE AMOUNTS OF WATER, INCURS FURTHER MAINTENANCE COSTS, AND MORE THAN LIKELY CREATES TRAFFIC OR HOUSEHOLD INCONVENIENCES. OR MORE IMPORTANTLY, ONCE YOU GO TO PIPED WATER, YOU NEED TO TREAT THE WATER SINCE IT NOW HAS TO BE TRANSPORTED VIA A PIPE (THE WATER IS NO LONGER PROPERLY OXYGENATED) AND WHEN PEOPLE MIX PIPED WATER WITH THE WATER COLLECTED IN TANKS, IS THERE ANY HEALTH IMPACT (OR CROSS CONTAMINATION) CREATED BY THIS BLENDING?
BY USING CATCHMENTS ACROSS THE ISLAND, AND HAVING HOMES MAINTAIN THEIR ROOFS AND TANKS, AND PROMOTING WATER CONSERVATION AND SETTING GUIDELINES, GOVERNMENT COULD TACKLE THIS PROBLEM MORE EFFECTIVELY THEN JUST RELYING ON MORE OSMOSIS PLANTS TO BE BUILT. GOVERNMENT NEEDS TO THINK IN A MORE SUSTAINABLE FASHION AND NOT JUST LOOK AT QUICK FIXES.
HYDROGEN FUEL CELLS

ONE SOLUTION THAT GREENROCK THINKS SHOULD BE DISCUSSED IS BUILDING FUEL-CELLS IN KEY AREAS AROUND THE ISLAND. THIS WILL HELP PROVIDE ENERGY AS WELL AS FRESH DRINKING WATER. AND IF OSMOSIS IS USED, THEY SHOULD USE RENEWABLE ENERGY RESOURCES TO POWER THEM.
HERE IS SOME FURTHER RESEARCH MATERIALS ON FUEL CELL TECHNOLOGY - AND THE MOVEMENT THAT IS TAKEN PLACE THAT BERMUDA COULD TRULY BE AN EXCELLENT SHOWCASE TO THE WORLD.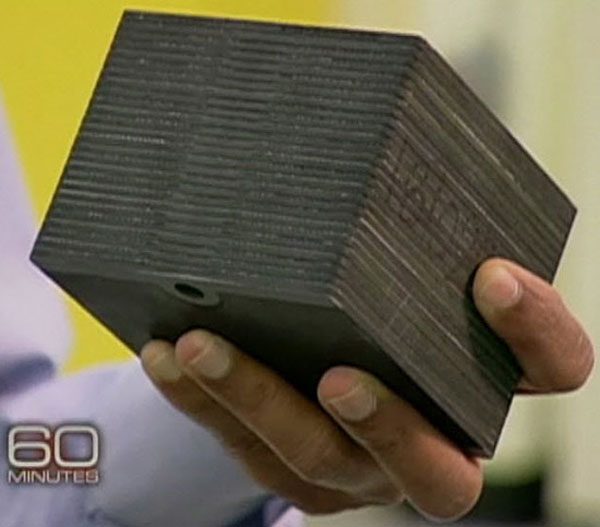 THERE IS SOME VERY INTERESTING TECHNOLOGY MOVEMENTS SUCH AS THE
BLOOM BOX
- SEE 60 MINUTES ARTICLE -
http://www.cbsnews.com/video/watch/?id=6228923n&tag=related;photovideo









BACK GROUND ON FUEL CELLS:
A fuel cell is an electrochemical device that combines hydrogen fuel with oxygen to produce electric power, heat and water. In many ways, the fuel cell resembles an electro-chemical battery. Rather than applying a periodic recharge, a continuous supply of oxygen and hydrogen is provided from the outside. Oxygen is commonly drawn from the air and hydrogen is carried as fuel in a pressurized container. As alternatives, methanol, propane, butane, natural gas and diesel can be used.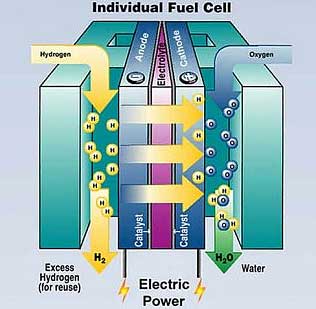 Alternative fuels require a reformer to extract the hydrogen. This allows tapping into existing distribution systems. However, reformers are bulky, expensive and sluggish. Some fuel efficiency is lost and a small amount of pollution is produced, but this is 90% less than from a regular car.
The fuel cell does not generate energy through burning; rather, it is based on an electrochemical process. The energy conversion is twice as efficient than through combustion. There are little or no harmful emissions. The only release is clean water. The water is so pure that visitors to Vancouver's Ballard Power Systems drank the water emitted from the tailpipes of buses powered by a Ballard fuel cell.
Hydrogen, the simplest element consisting of one proton and one electron, is plentiful and is exceptionally clean as a fuel. Hydrogen makes up 90% of the universe and is the third most abundant element on the earth's surface. Such wealth of energy would provide an almost unlimited amount of energy at relatively low fuel cost. But there is a price to pay. The fuel cell core (or stack), which converts oxygen and hydrogen to electricity, is expensive to build and maintain.
A fuel cell is electrolysis in reverse, using two electrodes separated by an electrolyte. Hydrogen is presented to the negative electrode (anode) and oxygen to the positive electrode (cathode). A catalyst at the anode separates the hydrogen into positively charged hydrogen ions and electrons. On the Proton Exchange Membrane (PEM) system, the oxygen is ionized and migrates across the electrolyte to the anodic compartment where it combines with hydrogen. A single fuel cell produces 0.6-0.8 volts under load. Several cells are connected in series to obtain higher voltages.
The fuel cell concept was developed in 1839 by Sir William Grove, a Welsh judge and gentleman scientist. The invention did not take off, partly due to the success of the internal combustion motor. The revival occurred when the first fuel cell was used in the Gemini space program during the 1960s. Based on the alkaline system, the fuel cell generated electricity and produced the astronauts' drinking water. Commercial application of this power source was prohibitive at that time because of high material costs. Improvements in the stack design during the 1990s led to reduced costs and increased power densities.
High cost did not deter Dr. Karl Kordesch from converting his car to an alkaline fuel cell in the early 1970s. Dr. Kordesch, the inventor of the reusable alkaline, drove the car for many years in Ohio, USA. The hydrogen tank was mounted on the roof and the trunk contained the fuel cell and back-up batteries. According to Dr. Kordesch, there was enough room for four people and a dog. Long up-hills were a struggle.

Editor's Note:
Click
here
to read related new story as published in The Royal Gazette on 25 May 2010.