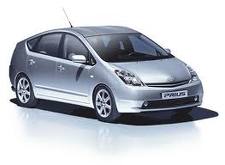 Enviro-rental Cars

Next time you find yourself on the way to the west coast of the U.S. consider renting a car with a low environmental impact.

EV Rental (www.evrental.com) Rents out hybrid vehicles in California, Arizona and Nevada. Cars include the Toyota Prius, the Honda Civic hybrid and the Toyota Highlander hybrid SUV.

To date we have not been able to find any other renter in the U.S. that provides hybrids, so if you find one please let us know!