A) A 'win' for Government in that it is able to continue with its 'courting' of the Jumeriah Brand to the Bermuda shores;

B) A 'win' for Southlands Ltd in that it gets a larger track of land that can be designed with more amenities and helps to minimize the 'negative publicity' targeted at their group by local activists; and



C) A 'win' for groups like BEST and the National Trust who actively lobbied against Government, and with the media's support has come out of this ordeal somewhat 'victorious'.



At this present stage however, Greenrock feels there are a number of open questions that need to be answered. We believe that the people of Bermuda, through its Government, are entitled to learn more about:

1. What guidelines will Government use in order to ensure that Morgan's Point is developed from a sustainable perspective? The current Development Plan that Government uses to oversee all development projects in Bermuda is outdated. Every six years, it is prudent to update the Plan to ensure building codes, zones and development guidelines are kept to a standard so that we avoid over development. This Development Plan has already missed two critical update anniversaries.


2. Which Ministry or department is responsible for the development of Morgan's Point? Was this the same Ministry or department that brokered the 'swap' between Southlands and Morgan's Point? Is this same Ministry or department responsible for the remediation of Morgan's Point? Is this same Ministry or department responsible for the Master Plan for Morgan's Point? Finally, if there is a Master Plan, who is responsible for creating, managing and ultimately owning this Plan?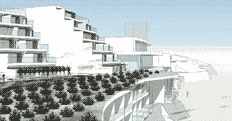 3. Did the original project at Southlands have foreign backers (aside from Duperreault, Hunt and Christensen, who own Southlands Ltd) and, if so, did they continue to support the project after it moved to Morgan's Point? In this current financial crunch due to the sub-prime fiasco, is it realistic that such a luxury resort hotel property will be funded and built prior to the sale of its fractional ownership properties? How have the delays in this project affected the investment expectation of the local and foreign financial backers? Will the pressure of time be balanced against doing what is right for Bermuda (in the short and long term)?

4. In cleaning up the hazardous waste at Morgan's Point, who will cover the risk of future claims in case the remediation of the land is not properly followed? Are Southlands and Jumeriah taking on the long-term risk of the remediation or is Government (hence, the general public) taking this risk? How will Government indemnify itself from exposure to long-term risks if remediation is not done successfully?

Given the increasing (re)development across our island in recent years, Greenrock has been actively researching large construction projects that have deployed sustainable development techniques via a Master Plan. In doing this research, Greenrock was fortunate enough to meet and learn about the Trust for Sustainable Development based in Victoria, B.C., Canada, with offices in Scottsdale, Arizona. Since 1994, This Trust has been actively engaged in the planning and creation of sustainable buildings and towns. Mr. David Butterfield is the Founder of the Trust and we were fortunate enough to meet in Bermuda. He has since accepted an invitation to join the Greenrock Advisory Panel detailed on our website in the People section .

Greenrock and Mr. Butterfield strongly believe that Morgan's Point could be the catalyst to create a new paradigm for sustainability in Bermuda. Morgan's Point provides a rare and unique development opportunity to display the best sustainable development practices that exist today. A development project that embraces sustainable techniques will not only be an extremely important global example but will also attract visitors to Bermuda to experience and learn about the sustainability aspects of the project alone. Greenrock encourages Government and those involved in this project to consider the opportunity that Morgan's Point presents if executed properly, thoughtfully, and with sustainability in mind.

Sustainable development, as defined by the United Nations' Brundtland Commission, is "meeting the needs of the present generation without sacrificing the ability of future generations to meet their own needs." Simply put, sustainable development encompasses three primary areas: economic, social and ecological.


Economic sustainability means that the development creates jobs and economic opportunities and is itself economically viable.

Social sustainability requires that a development improve the health and welfare of a region, while at the same time respecting and embracing its unique culture.

Ecological sustainability means preserving and enhancing the ecosystem locally and globally.

It is where these objectives overlap and reinforce each other that true sustainability exists. Greenrock would like to see more development in Bermuda as a conscious and positive part of the global ecosystem and the local community.