DIY Passive Solar Batch Heater project addresses all of these issues. It reduces the reliance on imported energy by reducing electricity demand for hot water and as it is constructed of recycled materials (windows, immersion heater, plywood and PVC piping) it also helps reduce the number of imports and waste to the dump.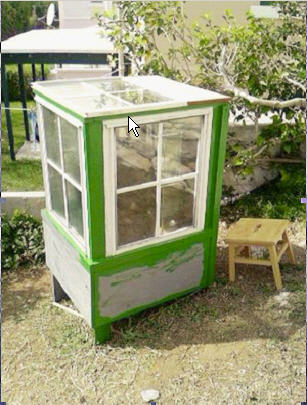 It is powered renewably and passively by the sun and is easily built by anyone with the most basic of household repair skills, thus reducing the cost of deploying new renewable energy technology. The working prototype pictured above was designed according to the materials available at the time and tools available to be borrowed.
There is no reason this type of solar batch heater could not be deployed on the majority of homes and businesses in Bermuda. The only limitation is the supply of old immersion heaters, glazing, lumber, and Styrofoam packaging used for insulation. In this regard Transition Bermuda intends to use some of the prize money from winning the Greenrock Innovation Tournament to teach others to build their own DIY Passive Solar Batch Heaters.
CLICK to see Construction Notes

43.07 Kb
Who is Transition Bermuda?
Transition Bermuda seeks to increase the resiliency of Bermuda by fostering and promoting a reduction in fossil fuel dependence, a return to local economy and self sufficiency, and the rebuilding of healthy community that comes with self reliance and local interdependence. It aims to do this through the sharing of information and ideas and by encouraging collaboration between individuals and with other organisations such as Greenrock. For more information contact This email address is being protected from spambots. You need JavaScript enabled to view it. or visit us at transitionbermuda.ning.com