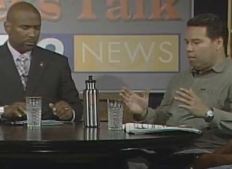 'Let's Talk' is an exciting Bermudian program produced by the Bermuda Broadcasting Company Ltd. which has gained a growing following by highlighting current social issues through the eyes of those who are deeply involved.
On Monday, May 10th, Gary Moreno hosted Andrew Vaucrosson & Eugene Dean from Greenrock & Gladwyn Simmons of the Emperial Group to screen Annie Leonard's informative documentary The Story of Stuff followed by in-depth discussions on the social, economic and environmental issues it highlights.

Watch this special 90 minute program (split into 9 ten minute parts below) to learn about the downside of all the production required to support the consumer driven society in which we live.

Sponsored by the Department of Community and Cultural Affairs.

Part 1 of 9
Part 2 of 9
Part 3 of 9
Part 4 of 9
Part 5 of 9
Part 6 of 9
Part 7 of 9
Part 8 of 9
Part 9 of 9

Ed's Note: Click here check out 'The Story of Stuff' website.