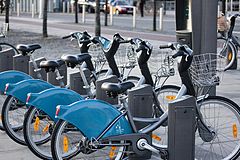 A dublinbikes stationIreland implemented a public bicycle rental scheme, called dublinbikes, in the city of Dublin in 2009. At its launch, the scheme, which is sponsored by European outdoor advertising giant JCDecaux, used 450 French-made unisex bicyles with 40 stations. By 2011 this had expanded to 550 bicycles and 44 stations, with plans for further expansion in 2012. Dublin was the 17th city to implement such a scheme.
The scheme was announced by Dubin City Council in 2006 when JCDecaux received 72 free advertising spaces around Dublin in a 15-year deal in return for the advertising company's funding of the project. 450 bicycle stands were installed in groups of ten and twenty in forty locations around Dublin from June 2009.
The scheme proved to be a great success, much exceeding predictions. Approximately 1,000 people used the bicycles in the first six hours, with a further thousand people having subscribed to use them. Some 11,000 people applied in the first fortnight and Dublin City Council's supply of subscriber cards was reduced to zero, with the Council having initially targeted a 5,000-person uptake in the first year. More than 25,000 people had applied to take part in the scheme by March 2010.
In the first ten months of the scheme, it was reported that there were over 37,000 users, over 828,000 journeys, no accidents, no vandalism, and only one bike missing (which was recovered).
On 10 May 2010 (post-launch), city councillors in Dublin voted for more advertising hoardings to be used to help with payments, with more than 30,000 people having subscribed (1,500 was the predicted number of subscribers for this stage of the project). On 14 August 2010, it was announced that the scheme had reached its one millionth trip. By May 2011, two million journeys had been made and the scheme had expanded to 550 bicycles and 44 stations, with plans for further expansion in 2012.
Cost to Users
In order to use the system, users need to take out a subscription, which allows the subscriber an unlimited number of rentals. Subscriptions can get a Long Term Hire Card costing €10, or a 3 Day Ticket costing €2. Users also authorize Dublin Bikes to charge €150 from their credit card if the bike is not returned. The first half-hour of every journey is free, after that a service charge applies. See below for pricing structure:
| | | | | | |
| --- | --- | --- | --- | --- | --- |
| Time | 30 min | 1 hr | 2 hrs | 3 hrs | 4 hrs |
| Rate | Free | €0.50 | €1.50 | €3.50 | €6.50 |
After 4 hours, every extra 30 minutes costs €2. The system is in practice virtually free to users as over 95% of journeys last less than 30 minutes.
Future
In November 2010, a major five-year expansion plan was adopted due to the huge success of the scheme thus far. The plan will see the number of bikes increase from 450 to 5,000 and the number of bike stations increase from 40 to 300. The expansion will be funded differently than the original scheme, most likely through a mix of public and private funding.
In July 2012 it was announced that the first part of the scheme would begin before the end of the year.
To learn more, visit www.dublinbikes.ie.