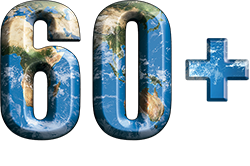 What is Earth Hour?
Starting as a symbolic lights out event in Sydney in 2007, Earth Hour is now one of the world's largest grassroots movements for the environment, inspiring millions of people to take action for our planet and nature.  From pushing for environmentally-friendly laws and policies to eliminating single use plastics, our individual actions make Earth Hour possible. Coordinated by WWF and other volunteer organizations, Earth Hour's greatest strength is the power of people.  As accelerating climate change and staggering biodiversity loss threaten our planet, Earth Hour endeavours to spark never-before-had conversations on the loss of nature and the urgent need for us to protect it.
Since 2008, Greenrock's acknowledgement of Earth Hour has evolved into an annual educational campaign, a reminder to live more sustainably, and an opportunity for all Bermudians to take action to address climate change. This year we are asking the community to use Earth Hour as an opportunity to pause. Chairman of the Board, Eugene Dean said, "As we shut off all unnecessary lights at 8:30pm on Saturday, March 26th, let's take time to pause, so that we can reflect on our contribution to Bermuda's carbon footprint, and envision what our lives could look like living in harmony with each other and the environment. We are stewards of the earth and it is important for us to embrace this responsibility, lest our failure to act appropriately will fall on the shoulders of future generations." Earth Hour is also an important fundraiser for Greenrock. Funds raised for this initiative support our environmental education programs, community events and our public advocacy work.
Going Beyond Earth Hour
Earth Hour is held on the Saturday closest to the Spring Equinox. Although it lasts for one hour, it also serves as a rallying call for all of us to 'go beyond the hour'. The threat of climate change gains momentum daily and the challenge of sustainability goes far beyond the one hour we observe each year. In truth, the challenge is constant, and Earth Hour is designed to inspire us to take action each and every day. If you are interested in going beyond the hour here are some tips explaining how you can do so in your business and at home.
Why we all need to act now
Since 2007 we have encouraged people around the world to switch off their lights during Earth Hour to call attention to climate change.  More than a decade later, the climate crisis remains, made worse by the rapid loss of biodiversity and nature.  Nature underpins everything around us from the food we eat, the water we drink, and the air we breathe.  It impacts our very livelihoods and quality of life.  Nature, one of our strongest allies against the growing climate crisis, is vital for all of our futures, and yet the global loss of nature in the last 50 years is unprecedented in human history.  Today, Earth Hour aims to spark global conversations on protecting nature not only to combat the climate crisis, but to ensure our own health, happiness, prosperity and even survival.  2020 presents an unmissable opportunity.  World leaders will come together during key global conferences and forums to set the environmental agenda for the next decade and beyond.  Crucial political decisions will be made on climate action, nature, and sustainable development –- decisions that will directly affect the fate of humanity and our planet for years to come.  With your support, Earth Hour 2020 could be a spotlight moment that puts nature at the center of international conversations.  Together, we can speak up and show our leaders that nature matters and urgent action must be taken to reverse its rapid loss.
Join us this Saturday, March 26th at 8:30pm by turning off all unnecessary lights and taking time to pause.  Use Earth Hour as an opportunity to take a break from all of your electrical devices and use the time to focus on the things in life that matter most.  When we pause, lets reflect on the way we are living and, because we are what we think, lets take a few moments to envision the happy, healthy, sustainable, and harmonious future we would love to see.
Join in on the Fun
Commit to "Lights Out" at 8:30pm on Saturday March 26th and join us on the Path to Net Zero.  Reflect on your contribution to Bermuda's Carbon footprint and envision the sustainable future you would love to see.  Show your support by getting friends and family involved. Do all that you can to go beyond the hour. Earth Hour's greatest strength is the power of people.  Together we are bringing about positive change.
What is the Purpose of our Annual Earth Hour Campaign?  

To strengthen our connection with nature, inspire environmental action and raise awareness about sustainable living.
How long is the campaign?
The campaign runs annually from March 1st until March 31st.
How will it benefit the community?
The community benefits from the information we share about nature, sustainability and environmental action during our month-long public awareness campaign.  The campaign launches on March 1st with an official press statement and culminates, this year, with a free, family-oriented Earth Hour live broadcast featuring conversations about some of the goals that our organisation has for Bermuda, efforts being made in the community to live and operate more sustainably, and practical steps we can all take to play our part in creating a sustainable future for generations to come.
How many people will benefit from it?
Our Earth Hour Campaign is designed to reach thousands of local residents, business people and children through their schools.  
What community need does it address?
The need for environmental consciousness and tangible steps that can lead our people down a clear path to sustainable living.  We understand that taking drastic measures to reduce our carbon emissions and halt the rapid loss of nature and biodiversity are major issues with global implications that will impact the largest nations to even the smallest island states like ours.
Look who sponsored us this year