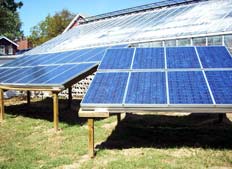 This is what can happen when citizens and government agree that it's worth spending a bit more for clean, carbon-free power:
German solar power plants produced a world record 22 gigawatts of electricity – equal to 20 nuclear power stations at full capacity – through the midday hours of Friday and Saturday, the head of a renewable energy think tank has said ... Norbert Allnoch, director of the Institute of the Renewable Energy Industry in Muenster, said the 22 gigawatts of solar power fed into the national grid on Saturday met nearly 50% of the nation's midday electricity needs.
That's right—half of all of Germany was powered by electricity generated by solar plants. That's incredible. It was also world record-breaking. Germany is pretty much singlehandedly proving that solar can be a major, reliable source of power—even in countries that aren't all that sunny.
Read full article on treehugger.com...
Also check related article from cleantechnica.com.