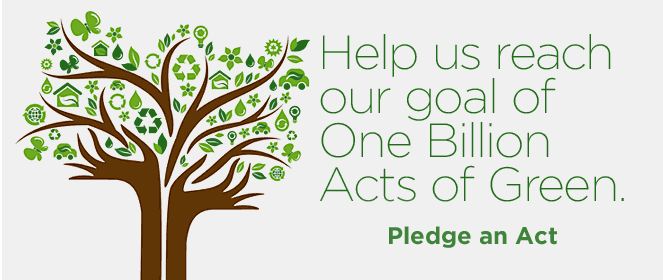 The Earth Day Network hopes to present A Billion Acts of Green® before the United Nations Conference on Sustainable Development in Rio de Janeiro in June 2012. The concept is simple -- Get individuals and organisations to pledge acts that help reduce carbon emissions and promote sustainability. An act can be a simple gesture, such as washing laundry in cold water, or immense, like picking up a million pounds of trash. Individuals and organisations can pledge 'acts of green' at any time, and as often as they want.
Earth Day is a great time to crowd-source acts of green within our community. Collectively, these acts will not only have an impact on global carbon emissions, but will also demonstrate the power of small every-day individual acts of green.
Acts of Green - Earth Day Favs;
Pledge to.....
Bike to Work!
Get home energy audit, do what it says
Switch to energy saving light bulbs
Eliminate use of pesticides and toxic cleaning products
Plant a Garden at School or Home
Organize an Earth Day event
Once you decide on your act of green, click here or visit act.earthday.org to register your pledge. The online registration tools are easy to use and only take a minute to complete.
If your act of green is to Organize an Earth Day event here in Bermuda, then please also register your event here.
Contact
For more information about Earth Day in Bermuda, please contact This email address is being protected from spambots. You need JavaScript enabled to view it. .
For more information about the global 'A Billion Acts of Green' campaign, please visit earthday.org/billionactsofgreen.