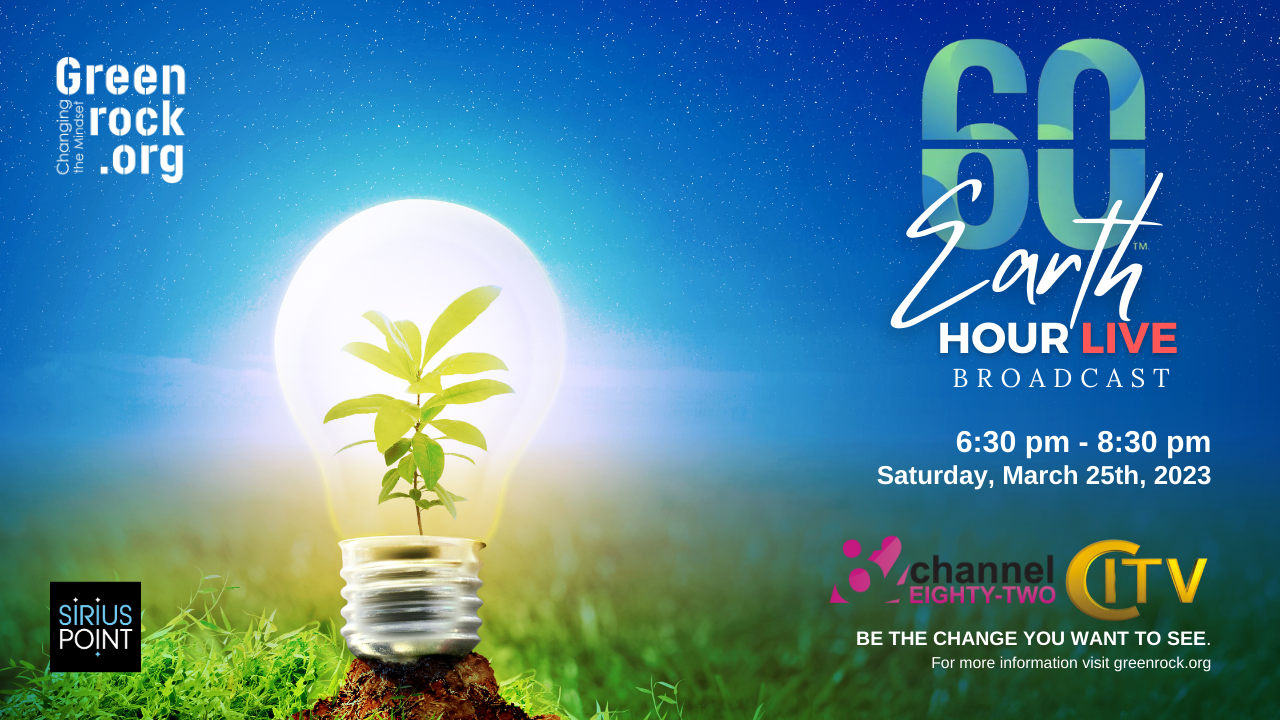 Overview
---
On Saturday, March 25th, from 6:30 pm to "Lights Out" at 8:30 pm, we will air our Earth Hour Live broadcast, featuring conversations about some of the goals our organisation has for Bermuda, efforts being made in the community to live and operate more sustainably, and practical steps we can all take to play our part in creating a sustainable future for generations to come. During the live broadcast, we will also seek to raise funds for our Offshore Wind Feasibility Study Series through pledges and donations, while encouraging the viewing audience to sign up as individual members and corporate supporters as well.
Earth Hour Live will be broadcast on Channel 82, CITV, our YouTube Channel, our Facebook Page, and our website, greenrock.org.
Purpose

---
To strengthen our connection with nature, inspire environmental action and raise awareness about sustainable living.
Time and Date
---
6:30pm - 8:30pm Saturday, March 25th, 2023 (Lights Out from 8:30 - 9:30pm)
Topics for this year's broadcast include the following:
---
What are planetary boundaries and how can humanity continue to develop and thrive within them for generations to come?
What is the Offshore Wind Feasibility Study Series and why is it important to the acceleration of renewable energy deployment in Bermuda?
Why is the RA requesting an update to the recent Energy IRP?
How is Fossil Fuel Energy Generation continuing to impact residents in proximity to the North Power Station and what are the neighbouring communities doing in an effort to see the current nuisances resolved?
What are the pros and cons of Offshore Wind Farms and how have countries that have implemented the technology fared in recent years?
How has the renewable energy market grown in Bermuda over the past few years and who has been benefitting from its expansion?
Did you miss the 2022 live event? Take a look at it now!
The Live Recording from 2021 is also available on our YouTube Channel.