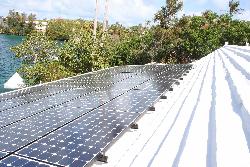 Homes and businesses can now install larger solar panels without needing planning permission under new rules.
Recently approved amendments to the Development and Planning (General Development) Order 1999 allow up to 400 sq ft of solar panels to be installed without the need to apply to the Planning Department for planning permission. A building permit, however, is still be required.
Minister of Environment, Planning and Infrastructure Strategy Marc Bean said the move was intended to expedite the process and encourage the adoption of renewable energy.
"The use of alternative and renewable sources of energy goes to the heart of sustainability, a development principle to which the Government is fully committed," Mr Bean said.
The Department of Energy also offers rebates to homeowners for both solar thermal and solar photovoltaic systems, provided homeowners work with a registered installer.
Useful website: www.energy.gov.bm.
Click here to view original article