With strong representation from a range of schools, students and staff had the opportunity to engage with delegates from third sector organisations, small businesses, and government departments who are keen to see young people lead the way in being the change our sustainable world needs. Organiser Abbie Caldas was pleased with the turnout and reminded participants that throughout their journeys of transforming their schools and implementing change, you do not need to have all the answers, just know where to look for them.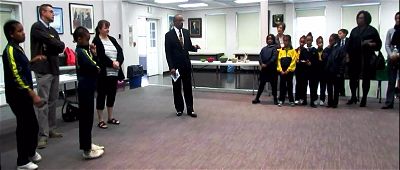 Dr. Simmons, Director of Academics at the Ministry of Education
Held at Warwick Academy, which is on the final steps to earning the international accreditation and Green Flag, Dr. Lew Simmons, Director of Academics at the Ministry of Education addressed the crowd, commending the students, teachers and Greenrock for our efforts so far. He highlighted the need for such offerings to our young people, with particular emphasis on school gardens and energy conservation. He concluded his keynote by proposing the challenge of engaging 100% of Bermuda's schools in the programme, as recently announced by Northern Ireland.
Anne Hyde, KBB Director
Waste Management Education Officer, Vanese Flood Gordon, and Keep Bermuda Beautiful Director, Anne Hyde, dressed up as 'garbologists,' encouraging students to look deeper into what is in their trash. Through a fun and interactive game, participants enhanced their understanding of how they can make a bigger impact to reduce the waste generated by their schools.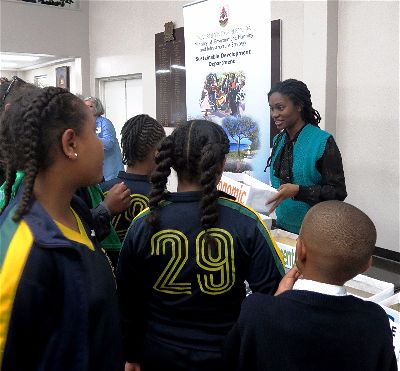 Lynniece Warren, Sustainable Development Officer
Sustainable Development Officer, Lynniece Warren, demonstrated the concept of sustainability through an activity where participants understood various social, economic, and environmental issues we are facing.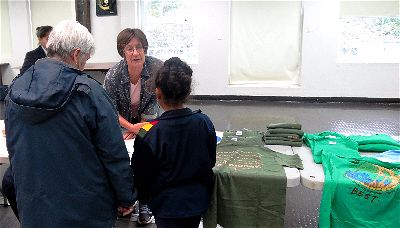 Jennifer Flood, B.E.S.T
Jennifer Flood of Bermuda Environmental Sustainability Taskforce (B.E.S.T.) introduced the concept of public advocacy through a 'match up' game where participants connected community campaigns with positive impacts.
Representing Conservation Services, Alison Copeland provided resources and information on biodiversity and the types of plants students can include on their school grounds.
And Omari Dill brought along his friendly chicken, Gloria, to interact with students as they explore permaculture and sustainable food options.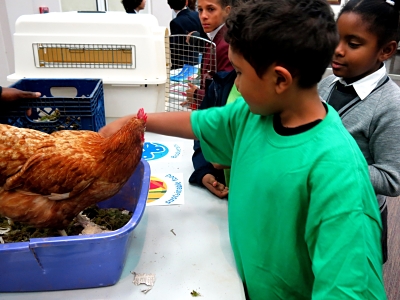 Gloria 'The Chicken'
-----------------------------------------------------------------------------------
Learn more about Eco-schools in Bermuda, here.