COP 21: Global Conference on Climate Change
Climate change is a global phenomenon and requires a global solution – climate change does not respect national boundaries, and unilateral action by individual nations can never be enough to solve the problem. International agreements on a global action plan are necessary if we are to develop a global solution that is both effective and fair. This process is slow and difficult as it has never been attempted for any other problem. The fact that there is any global agreement at all shows just how seriously world leaders are taking the problem of climate change.There is widespread expectation that this year's summit, to be held in Paris, offers the best chance since the 2009 summit held in Copenhagen to deliver a strong global action plan to tackle global climate change.
Unfortunately these Paris talks have been overshadowed by the terrible events of Friday, November 13th, which saw multiple terrorist attacks throughout the French capital. As a reaction to these tragic events the French Government, citing security fears, banned the Global Climate March due to be held on November 29th in Paris. Despite this ban, individuals in Paris and millions of people in cities all over the world still came out over that weekend and demonstrated, calling for political leaders to deliver a strong global action plan.
Climate Change and Bermuda?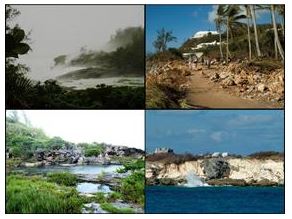 Impact of climate change on Bermuda - from the Sustainable Development Department, BermudaWe should not think that as a small, wealthy nation we will cope with climate change easily in Bermuda. A warming atmosphere is likely to cause more frequent and more severe storms; we are all familiar with the devastation these can cause. However, we may be less familiar with the fact that as the ocean warms, the sea level will rise and the ocean will become more acidic. This is likely to have an impact on our low-lying areas, such as the airport, and could wreak havoc with our reefs. Climatic changes will change the way that people travel, opening up previously unappealing parts of the world - this could have a significant impact on our tourism sector. Climate changes in agricultural areas, and severe weather for shipping could disrupt our transport and our food supplies.
An Action Plan for Bermuda:
In Bermuda Greenrock organised a successful event at City Hall to both raise awareness about climate change generally, and the Paris summit in particular, and to demonstrate solidarity with those throughout the world marching on November 29th.
Despite unsettled weather and Black Friday sales, the event successfully helped raise awareness and was well-covered in the local media. Greenrock looks forward to building on the success of this event and will continue to raise awareness about climate change and the role we can all play in facing global climate change.
Special thanks to all those who participated in the event, and to those who volunteered their time and skills to pull off a successful event!
Particular thanks also to our speakers, Councillor Dennis Tucker representing the City of Hamilton, Senator Diallo Rabain representing the Opposition, Stuart Hayward representing BEST and Eugene Dean representing the Greenrock Council.
Greenrock continues to call for Government to develop an action plan to honour our obligations under the Kyoto Protocol, to reduce our greenhouse gas emissions, building on the targets set in the 2011 White Paper on Energy, which pledged to lower our emissions to 30 percent below 2008 levels. We also need plans in place to mitigate the effects of Climate Change on our island's economy, infrastructure and land. Wake up Bermuda, this is is a conversation we all need to have.