The first year of our Eco-Schools programme exceeded all expectations with Somersfield Academy and Stepping Stones Pre-School receiving their internationally recognized Green Flag Accreditation, and West Pembroke Primary, Elliot Primary, Prospect Primary and the Bermuda College receiving their Green Seed Awards. (Schools must complete two Green Seed Pathways to qualify for a Green Flag.)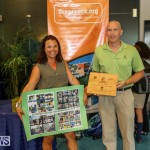 The audience at the BUEI heard comments from the Minister of Education on transforming education, and from the Minister of Environment on empowering environmental stewards. Mrs. Fergusson, the wife of Governor Fergusson, shared her positive experiences with children in gardens, and international motivational speaker, Neal Petersen, closed the event as the keynote speaker, inspiring young people to strive for their best. Students and teachers represented Elliott Primary, West Pembroke Primary, Prospect Primary, Victor Scott Primary, Heron Bay Primary, Sandys Middle School, Bermuda College, Somersfield Academy, Warwick Academy, and Stepping Stones Preschool. School projects focusing on waste minimization, healthy living, improving biodiversity, and enhancing school grounds were highlighted and students showcased their work in an open forum. Highlights of the event can be found on the Bernews website.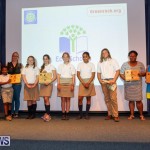 The Eco-Schools programme has been supported by many corporate and community gifts, and all sponsors were recognized at the Award Ceremony. Greenrock would like to recognize in particular the generosity of lead sponsor, HSBC. HSBC Corporate Secretary, Judy Doidge, said "HSBC is honoured to partner with Greenrock Bermuda a recognised representative of Foundation for Environmental Education (FEE) in Bermuda in supporting the introduction of the Eco Schools Programme into our local schools. Through this programme, teachers and students work together in promoting environmental conservation, so that it becomes a way of life. It is so important that everyone understand how vital it is that we protect our precious resources, and the implications of continuing to live in an unsustainable society". Other significant donors include Catlin, and the Bank of Bermuda Foundation.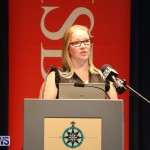 We are very proud of all the hard work from students and teachers. Their enthusiasm and dedication in pursuit of the Eco-Schools pathways prove their natural desire to connect with the earth and find solutions to protect it. Taking the classroom outdoors allows students to discover an exciting way to apply their knowledge and skills; and students take their newfound passion into their homes and communities.