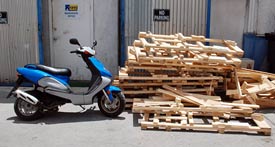 The first experience of Douglas' world occurs when approaching the main door, which appears to be a ship door made of metal. However, the door was crafted from a reused wooden mould that would otherwise have been tossed out. In addition, most of the rest of the home was made from motorcycle pallets from HWP that would ordinarily have been deemed as trash. Approximately 95 per cent of the wooden structures in this home were made from these pallets, including smaller items such as chopping boards in the kitchen and larger items such as the shelves in the living area.
When asked why Douglas chose to use this medium for his creations, his explanation was, 'It would be a real shame for good wood to end up at the dump.' This talented carpenter has truly proven that one person's trash is another's treasure.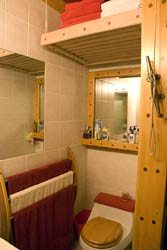 This attitude is apparent in every nook and cranny, where something really interesting and unique or just plain fun can be found. For example, the kitchen table has a nautical map of Bermuda embedded in it. Storage was also carefully planned in this one-bedroom apartment. The bathroom is very cleverly designed with a towel rack above the toilet that can be hoisted down when needed and then tucked away again. The bedroom features a charming bunk and stairs leading up to an attic space door with a dive flag painted on it. Even the bar has a ship's wheel that truly makes you feel like a captain!
When asked which of his works he is most of proud of, Douglas is drawn to his coffee table. This beautiful piece was again made from motorcycle pallets as well as a porthole from the 'Reef Explorer' tourist boat that was going to be thrown out. The porthole showcases beautiful pink Bermuda sand and various shells that have been placed in the coffee table.
Other fantastic works in this nautical wonderland are the beautifully sculpted marine life, including a tuna, dolphin, blue shark and great white shark. There is also a fun but functional stool that was crafted from these reused pallets into a Rubik's Cube. Finally, a 1:10 scale model of a 65-foot fishing trawler designed by Douglas when he worked in Newfoundland truly demonstrates his skill and attention to detail as a carpenter and artist.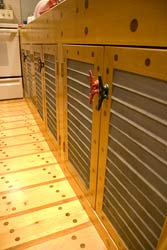 It is hard to believe that these works of art were made from pieces of pallets that were glued together, sanded and then painted. The paintwork was done by a friend of Douglas', Robbie from Bermuda Sign Painters.
This Green Geppetto not only reuses items in his home, but also practices the habit of reusing materials on the job. Nothing goes to waste around Douglas Sutherland. He is an inspiration to us all to become more creative and less wasteful with items that we may have originally thought of as trash. He advises, 'Visualise what something could be turned into and then try to make it work.' Next time you see an old pallet, perhaps you won't see potential trash but raw material for something wonderful, limited only by your own imagination.