A runner in the making
Running has been a part of my life forever. As far back as I can remember, I spent parts of my weekends watching and cheering for my mum as she participated in local and overseas events. When I was 14, I went to school in the US and the soccer coach told me I'd be better served running on the cross country team. That's where my real love for competition in running races began.
I went on to run for the University of Vermont, where I was lucky enough to have a coach who really nurtured each person's abilities. I found myself running faster and faster at each race. Because of Coach Hoppler's guidance, I was able to secure a spot on Stanford University's track team while completing my masters degree in education. Running with some of the best athletes in the United States allowed me to stretch myself to reach new heights.
After university, I joined a post-collegiate professional track team called the Nike Farm Team. For the second time in my life, I discovered that an inspirational coach can push you beyond what you ever thought you could do. Under Coach Gags I qualified for the Commonwealth Games in Australia in 2006, where I ran my best time by seven seconds in the 1500 metres, placing ninth in the final.
Coming home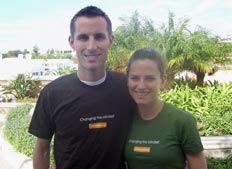 Since moving back to Bermuda in August 2007, my husband Chris and I have jumped head first into the Bermuda running scene. We love the camaraderie of the races and the support we have felt from such a tight-knit community like Bermuda. We both agree that running the 24th of May Half Marathon Derby was one of the most spectacular experiences of our running careers. The support and cheers we received leading up, during and after the race was touching.
Validus Reinsurance, Chris' company, saw the publicity we were getting and realised there was an opportunity for them to give back to the community while getting their name out in the public eye. Validus' charitable giving has worked with Chris and me to develop a plan whereby we wear the Validus logo when we race, along with the logo of a charity of our choice. In return, Validus generously supports our chosen charity. Chris has decided to run for Big Brothers Big Sisters and I will run for Greenrock.
Why run for Greenrock?
Growing up in Bermuda with parents who taught me to take care of my environment and conserve our resources has nurtured a deep love for my island home. As kids we were always told to turn out our lights, turn off the tap while we're brushing our teeth, and reuse items instead of throwing them in the trash. We explored the green spaces we have in Bermuda, learning about the flora and fauna. Our dad took us snorkelling, teaching us about the underwater world and the importance of taking care of our reefs, not overfishing, and protecting the turtles and other creatures.
Today I see people coasting through their busy lives, too preoccupied with jobs and children to take care of our island, taking for granted that it will be here in its beautiful state forever. Even in my lifetime, I have already seen so many green spaces go. We cannot keep moving at this pace without taking responsibility for our actions. We must find innovative ways to sustain our development. Greenrock endeavours to do just this. We must change the way the general public goes about their daily routines. We must educate our youth. We must make companies look at their behaviours and the consequences thereof. I believe, as Greenrock states, we must strive for our goal of changing the mindset.