Details

The Green Building Forum (GBF) promotes sustainable commercial environments and facilities management. Founded by Greenrock in 2009, the GBF encourages co-operation, innovation and knowledge exchange among local businesses working to create and maintain healthy eco-friendly environments which are also cost-effective.
What is Sustainable Development?
---
Sustainable development is development that meets the needs of the present without compromising the ability of future generations to meet their own needs.
Sustainability maintains the health and biocapacity of the environment, supports the well-being of individuals and the thriving of communities while promoting a better economy where there is little waste and pollution, fewer emissions, more jobs, and a better distribution of wealth.
---
Details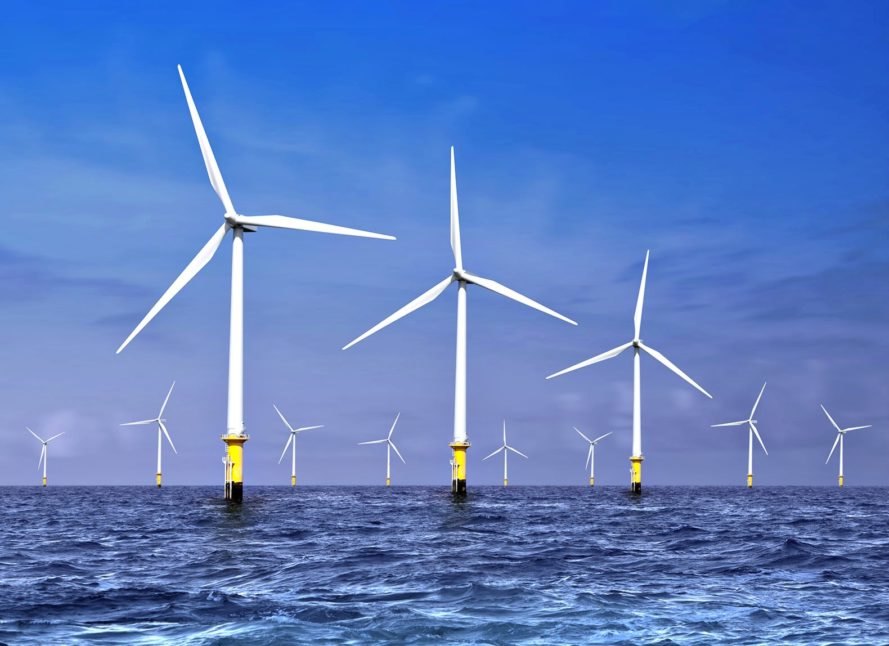 Bermuda's electricity sector regulator has opted against natural gas as a principal generation fuel and in favour of an offshore wind farm and more solar power.
Details were released yesterday by the Regulatory Authority in the island's first Integrated Resource Plan, which outlines the framework for Bermuda's energy requirements over the next 25 years.
Under the plan, within six years the island is scheduled to have a 60-megawatt offshore wind farm, 21MW of utility-scale solar photovoltaic supply and up to 30MW of "distributed generation", meaning residential and small scale solar.
The RA said last night that "specific engines at the Belco plant that are dependent on fossil fuels will be decommissioned".
By 2028, biomass generation is scheduled to be added to the island's energy mix.
In a statement, the RA said two distinct options emerged from its analysis: liquefied natural gas as a fuel source with additional renewable energy, or no liquefied natural gas with very high renewable energy penetration.
"The RA selected the high renewable option which will yield the lowest long-term cost for a non-natural gas solution, while exceeding Bermuda's renewable energy policy objective," the regulator stated.
The RA chose from eight energy-mix scenarios. The one selected will result in 85 per cent of the island's electricity coming from renewables by 2035, well in excess of the 38 per cent target of government energy policy.
The capital investment needed to implement the plan is estimated at $273 million.
Generators that burn liquid fuel "are not expected to operate at full utilisation from 2026 onwards due to the relatively high contribution that is expected from renewable sources", the report states.
However, such generators will still be needed to ensure continuity of supply when renewable sources are not available and during major system faults, the IRP adds.
The regulator had gone through a 20-month process, which involved power utility Belco submitting its proposals for the IRP — which favoured a solution with natural gas being used as a principal fuel.
Eight alternative proposals were then submitted and reviewed by the RA and feedback from more than 800 people considered.
One of the proposals, submitted by BE Solar, included plans for a 60MW wind farm located six miles off Dockyard.
Angela Berry, the RA's chairwoman, said: "We know that business as usual is not sustainable. We also know that investing in a natural gas solution would continue our dependency on fossil fuels for up to 50 years and provide fewer diverse investment opportunities.
"Therefore, the RA is confident that the energy plan will help to stabilise the cost of electricity, provide jobs to construct and support the new renewables infrastructure, increase investment opportunities for local and international investors, reduce our dependency on fossil fuels and place Bermuda significantly ahead of its renewables target."
The IRP's release comes as Ascendant Group shareholders prepare to vote next month on a proposed $365 million takeover by Algonquin Power & Utility Corporation.
In a letter to shareholders, Peter Durhager, chairman of Ascendant, said that for Bermuda, "Algonquin and Belco will continue to collaborate with the regulator to implement the IRP".
Belco declined to comment on the IRP last night.
Ms Berry said the next steps in the IRP implementation include conducting several pre-feasibility studies to quantify the maximum amount of solar capacity available and future requirements, and also to undertake an investment-grade study on the use of wind power.
Another study would determine the feasibility of introducing biomass generation into the energy mix.
Ms. Berry added: "It is important to note that the IRP is a living document, and as such, the RA will conduct another IRP within the next three to four years to include the results of the pre-feasibility studies, to identify new changes in technology and gauge public sentiment regarding energy."
Walter Roban, the home affairs minister, welcomed the IRP last night.
"I am pleased with the announcement and release of Bermuda's first IRP," Mr Roban said. "While there are elements of the IRP that reflect the Government's commitment, the IRP also outlines a number of scenarios that the public should carefully consider as we all decide the course of our energy future moving forward.
"Bermuda has a long way to go before we can achieve a low-carbon energy future at a lower cost."
Mr Roban added: "We must all do our part to decrease our demand for fossil fuels and non-renewable electricity in Bermuda. This contributes to hundreds of millions of dollars leaving the country and unsustainable high costs of living and doing business."
Article courtesy of the Bermuda Royal Gazette. 
Details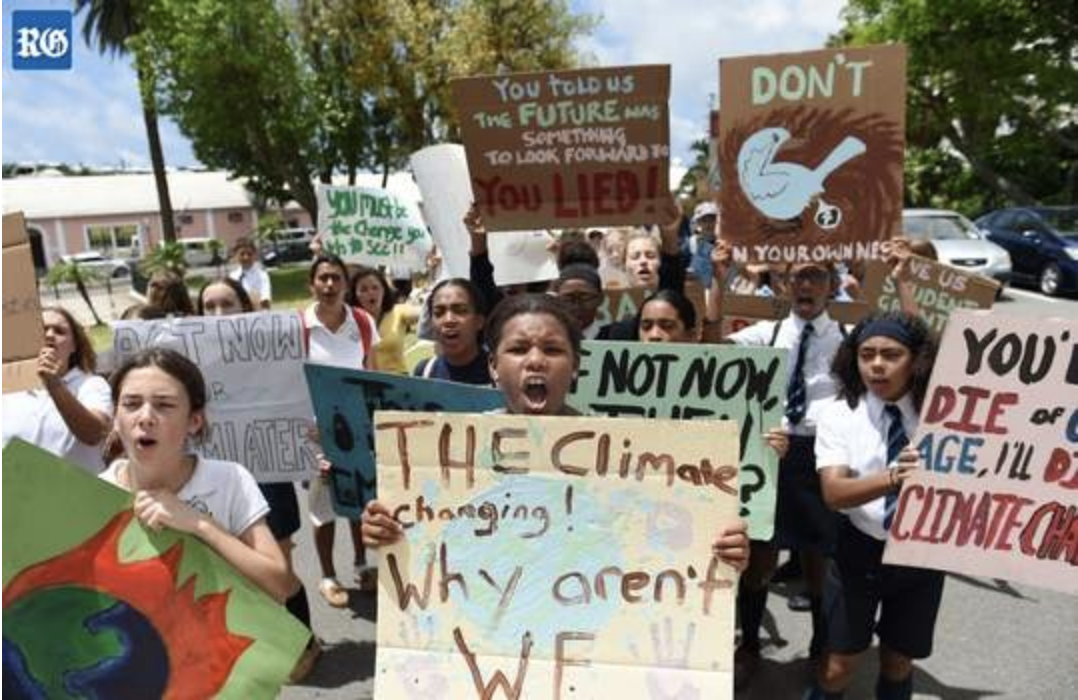 Impassioned student demonstrators joined a world movement for climate change awareness in a march from City Hall to Cabinet yesterday.
David Burt, the Premier, alongside Walter Roban, the Deputy Premier, met the crowd to hear their call for swift changes in policy.
Bermuda's Fridays for Future demonstration took inspiration from the international school strikes for climate started by student activists.
Bermuda High School student organisers Salayah Stange and Katarina Rance were joined by students from Warwick Academy and Saltus Grammar School as they chanted slogans to passers-by on Church Street.
Salayah said her group followed the example of Fridays for Future environmental demonstrations in Sweden
"It inspired our own march on May 23, which was our first," the year ten student said. "We got this rally today with the other schools."
Katarina, 15, said they had been impressed by Greta Thunberg, the Swedish teenage activist, now 16, who began a movement that brought out 1.6 million demonstrators in 168 countries. "Climate change is coming quickly and we only have a few years left to act. Last year, she started the striking protests for climate change. It's become a global thing."
Katarina said she had been studying in Germany when the student movement gained momentum.
"We decided to bring it to Bermuda," she added.
The Bermuda activists called for the banning of single-use plastics, switching to renewable energy from fossil fuels, and the declaring of "climate emergency".
Chants included "You will die of old age; we will die of climate change" as cars honked horns in support.
Mia Baccaglio, 13, of Warwick Academy, told The Royal Gazette: "I don't see a future at this rate. Bermuda will be destroyed."
Fellow student Olivia Buchanan, 13, called for the Government to adopt the 2016 Paris Agreement on reining in greenhouse gas, while Giselle Soares, 12, said: "Our entire lifestyle has to change."
Jibril Taylor, 13, said: "I'm here because I want to change my future. Some people don't believe in climate change. They will when they're under water."
Cardiff University student Brittany Siddle, 18, who held a sign by the street, said she was "raising awareness that we don't have much time left".
"It starts with this," she added.
Giselle Conception, 16, from Saltus, said that "social media connected everyone", and the movement's goals were "doable and can be achieved if we educate as many as possible".
Demonstrators have signed a petition to support the Bermuda Better Energy Plan, which calls for 70 per cent renewable energy for Bermuda by 2040.
Greenrock and BeSolar also turned out to show their support. More than 100 marchers headed through Hamilton to the Cabinet office on Front Street, where Mr Burt told them: "I want to encourage you to continue to make sure your voices are heard on issues of the environment."
Mr Roban spoke with demonstrators as the Minister of Home Affairs, who hold responsibility for environmental matters.
He told them: "This is not an issue that has been away from the mind of the Government. We are committed to renewable energy being our chief source of power for the future."
Mr Roban told the crowd that the Government was also committed to removing all single-use plastics from sale by 2022. A demonstrator shouted "Sooner!" and Mr Roban answered: "Sooner, if it can be achieved. I hope you will be helping with that."
A girl with a placard asked: "Why is it up to us?"
Mr Roban told the crowd: "You make the difference. It's your future — I want to work with you."
Details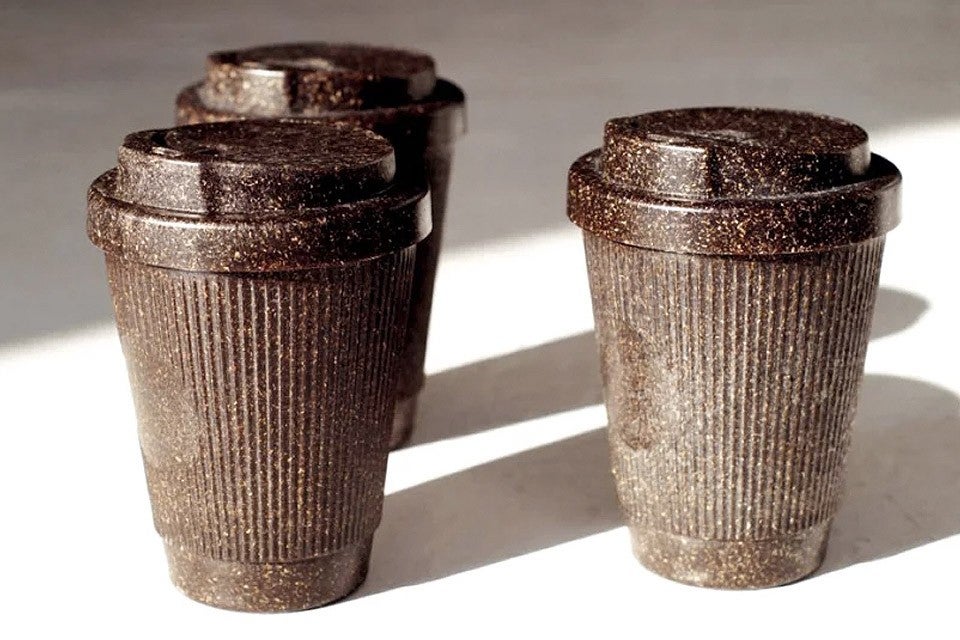 We all know how our oceans are choking from plastic. This is a menace which seems to have no end! Single-use plastic is one of the most time-consuming things to get rid of, yet their use doesn't seem to slow down. So what does a boy from Germany do to save the planet from the devil of the single-use coffee cups?
Kaffeeform is the start-up company of Julian Lechner from Berlin, where they use coffee grounds to make reusable coffee cups.
While we all enjoy our cuppa, the United States alone generates 120 billion single-use coffee cups every year. So imagine the waste generated with the whole world consuming their share of coffee, not only generating the non-biodegradable cups but also heaps of coffee grounds.
In 2009, while studying product design, Lechner noticed how much coffee he and his peers consumed daily. The average person in Germany consumes as much as 14pounds of coffee beans yearly. Almost 99% of all coffee cups are turned to the trash and even paper cups may take more than 20 years to properly decompose.
So Lechner planned to reuse the disposed of coffee grounds to produce eco-friendly coffee cups. Not just Kaffeeform, another startup, Crow Cycle Courier Collective, is also involved in this mission of saving the planet. The Collective gathers nearly 110 pounds of coffee grounds each day which is then cleaned in Kaffeeform workshops.
They are then sent to a different facility to dry and blend with things like plant fibers, natural resins, and beechwood grains. Intense pressure and heat compress 6 cups of coffee grounds to make one cup and saucer. The finished products are 100% biodegradable and 40% coffee grounds.
Lechner's success lies in how 20 of Berlin's coffee shops use his products along with 150 odd vendors throughout Europe. The future for the company lies in Lechner's vision of producing not just cups but to extend into furniture and lifestyle product production. And to think, it's all from the remains of our coffee!
Read the Full Article Here.
Details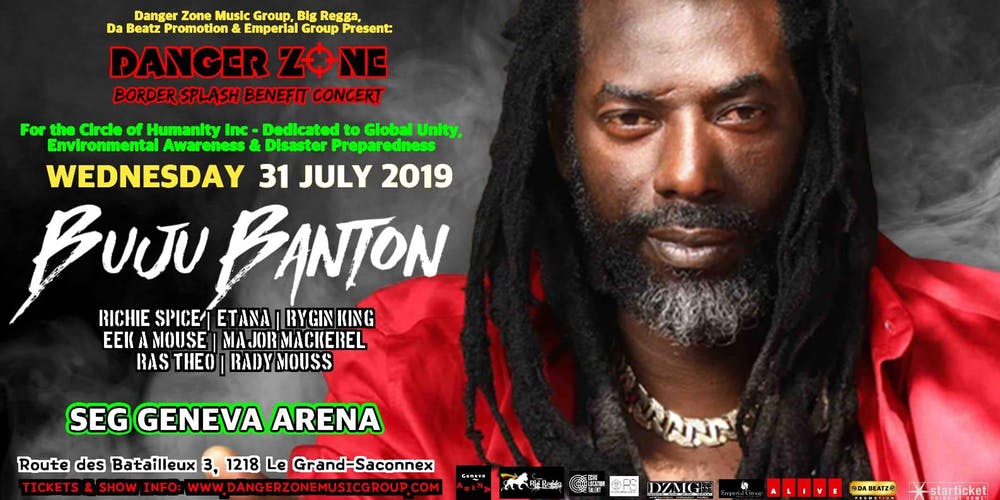 Grammy award-winning singer, songwriter and producer Mark Anthony Myrie prominently known as Buju Banton will bring his arena busting "Long Walk to Freedom" tour to the global stage as part of the Danger Zone Border Splash Benefit Concert Series ("Border Splash") between Europe, Africa, and the Americas. Border Splash is produced by the Bermuda-based Emperial Group of Companies in partnership with the Danger Zone Music Group (Los Angeles, CA/Jamaica), Da Beatz Promotion (Jamaica), Cutting Edge Technology Solutions (Athens, GA), Urban Broadcast TV Network (New York, NY),  Big Regga (Zurich, Switzerland) and Shlepp Entertainment Ltd (UK).
Border Splash is designed to commemorate the 400-year anniversary of the first African American arrivals in Virginia during August 1619 by focusing the attention of the hip hop, dancehall and reggae worlds on cross border issues of peacemaking, environmental awareness, and emergency preparedness. The concert series will undertake to raise funding for green bonds that help to build "future proof"eco-villages in vulnerable communities that are increasingly susceptible to hurricane risks and rising sea levels, especially in countries bordering the Caribbean Sea, the Gulf of Mexico, the Mid-Atlantic and the Indian Ocean.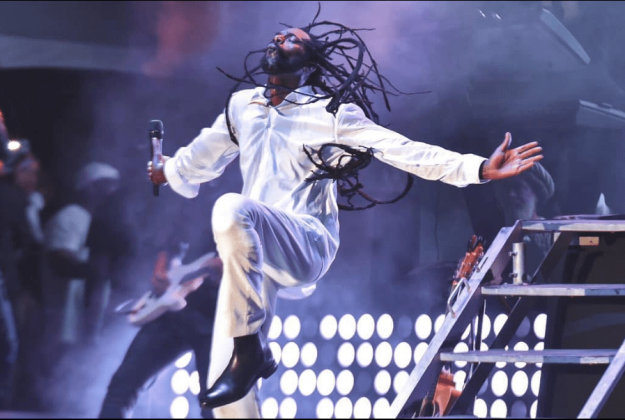 Border Splash will be officially launched in Europe on July 31, 2019 at the SEG Arena in Geneva, Switzerland to highlight the global significance of one of our leading beneficiaries the "Circle of Humanity" which represents  one of the earliest recorded peace treaties of antiquity between the indigenous peoples of the Hopi, Kikuyu, Tibetan and Swiss nations.
The Kikuyu elders at Mount Kenya – itself a UNESCO World Heritage Site – have affirmed that Jamaica has a key role to play in the Circle of Humanity and their traditional prophecies concerning Mount Kenya. The Border Splash pays tribute to this vision by making reggae music – now also listed as a UNESCO cultural treasure – the focal point of our humanitarian agenda to promote the reunification of all peoples. Buju Banton is the ideal reggae ambassador of the moment to help make this global appeal relevant to a new generation of artists. As part of this obligation, the Border Splash is also working with globally connected influencers Generation Hip Hop – representing 58 countries around the world – by featuring unsigned and emerging world artists at the forefront of our global call for unity, diversity and inclusion on matters of climate change and beyond.  This will also include artists such as Brazilian rapper Kaos Mc, and Chinese Master singer Jane Maria who collaborated with African reggae legend Toyin Adekale on a reggae and opera fusion 'Jasmine' (let it show).  Border Splash will feature a host of well-known and emerging artists from around the world.
For further information please contact:
Corin Smith, Events Coordinator, Emperial Group / (441) 518-1700 /

This email address is being protected from spambots. You need JavaScript enabled to view it.

For Tickets & Show Info:DangerZoneMusicGroup.com
Details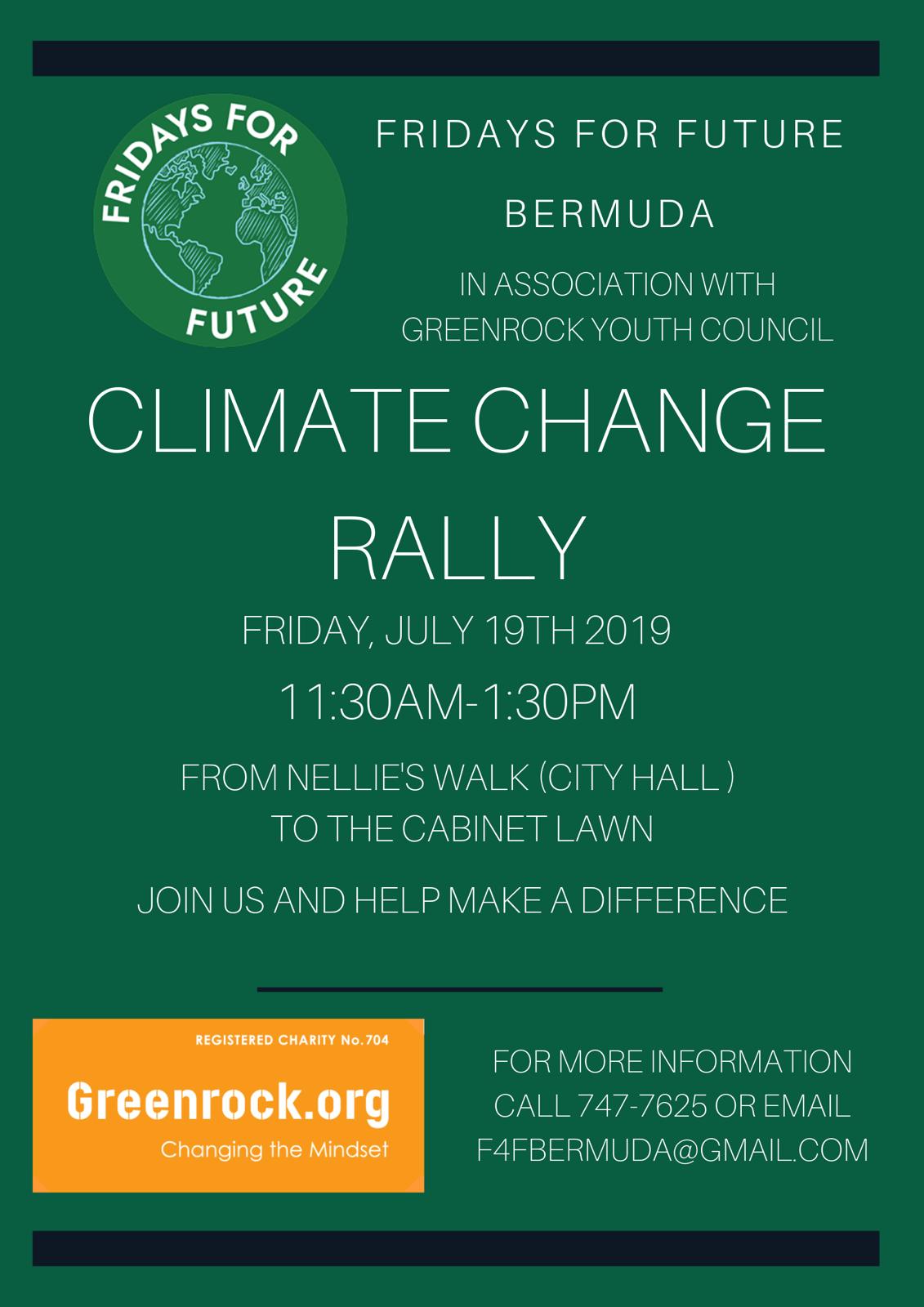 Greenrock has formed a Youth Council to provide young environmental advocates and green entrepreneurs with a platform to express their interests, proposed solutions and collective concerns to our government, local businesses and the community at large. The council will also serve as a central hub for young leaders to collaborate with like minded peers, share ideas, raise awareness, organize initiatives, and provide support to one another when it is time to make a stand.
The creation of the Greenrock Youth Council was inspired by the actions of two 15 year old advocates, Salayah Stange and Katarina Rance, who organized their first school strike / climate rally for local students on Friday, May 23rd. On Friday, June 14th, they organized an even larger school strike / climate rally and, at the moment, they are in the midst of planning their third climate rally from Nellie's Walk to the Cabinet Office this Friday, July 19th from 11:30am - 1:30pm. The rallies have all been organized in conjunction with the #FridaysForFuture Movement started in 2018 by then, 15 year old student Greta Thunburg, who sat in front of the Swedish parliament every school day for three weeks, to protest against the lack of action on the climate crisis. She posted what she was doing on Instagram and Twitter and it soon went viral. Today Greta continues to strike in front of Parliament every Friday, and she plans to do so until the Swedish Government brings its policies in line with the Paris Agreement.
Like Greta, members of the Greenrock Youth Council would like to see our Government engage more actively in policies, legislation and initiatives geared toward reversing the harmful effects of climate change. The current objectives of the council are as follows:
Encourage our government to declare a Climate State of Emergency - "we need to address climate change like a house on fire"
Encourage our government to set renewable energy targets - i.e. 70% renewables by 2040
Encourage our government to ban all single use plastics and styrofoam - " we are creatures of habit who have proven, on many occasions, that we only tend to change when we have to"
As these objectives are realized, others will be prioritized by the youth council as the members continuously work toward creating a more sustainable future for Bermuda. Key members of the youth council are Salayah Stange & Katarina Rance (Co Chairs & Legislation), Kristy Sanchez (Admin), Anjelina Chandrasekaran (Membership), Tomasina Pearman (Graphic Design), Chris Skinner (Social Media), Jodie Curtis (Renewable Energy & Carbon Emissions). If you are interested in joining the youth council or participating in the climate rallies call 747.7625, send an email to This email address is being protected from spambots. You need JavaScript enabled to view it. or instagram @greenrock or @fridaysforfuturebda19
"It is important for us all to remember that our actions today directly impact the future that younger generations will inherit. With that in mind, it is imperative that the views of our young people are respected, that they have a seat at the table when decisions pertaining to their futures are being discussed, and that they are actively engaged in providing local solutions for the global challenges we face today." Eugene Dean (Greenrock Chairman)
Details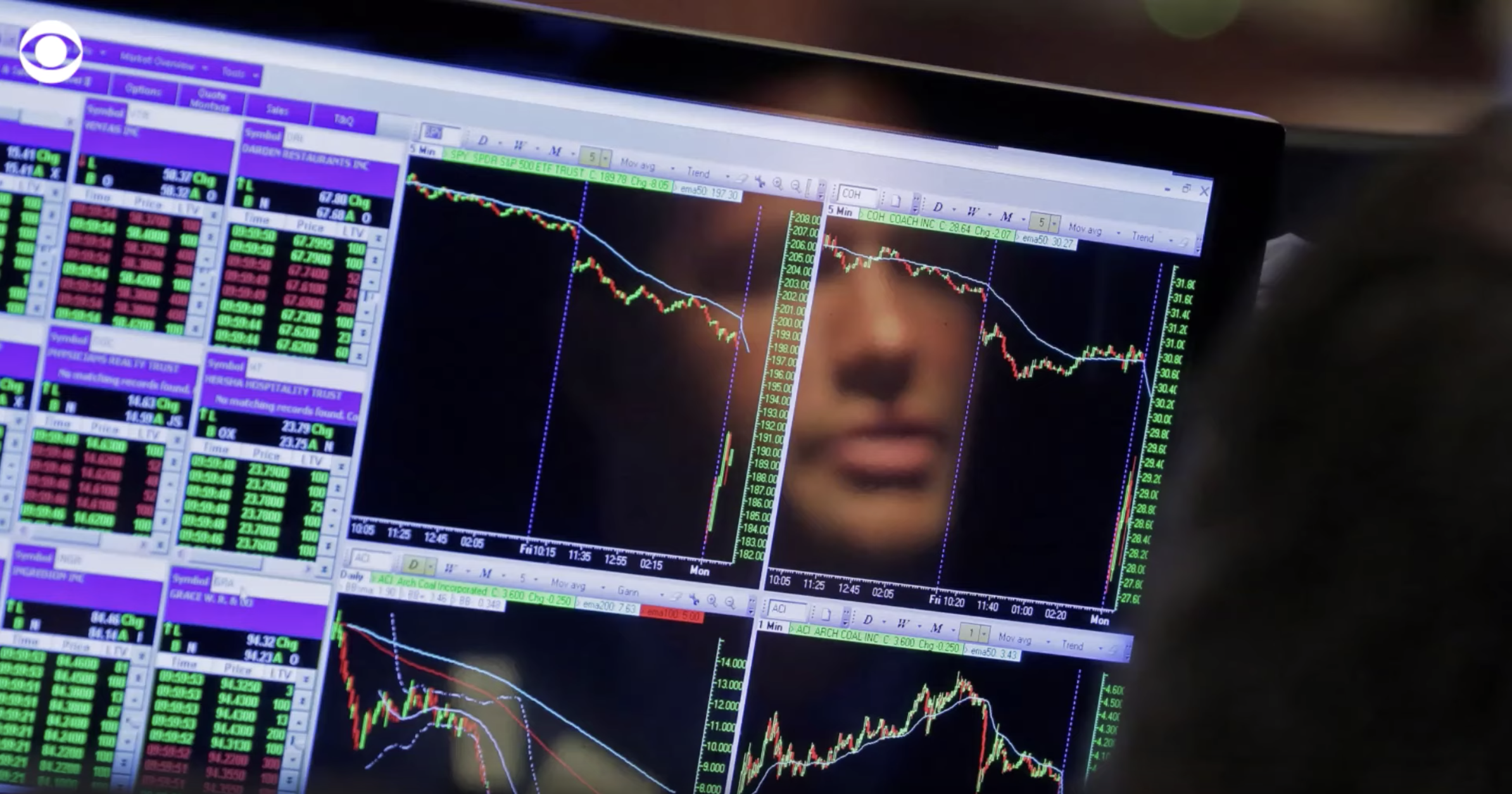 Click to Watch Full Video
Details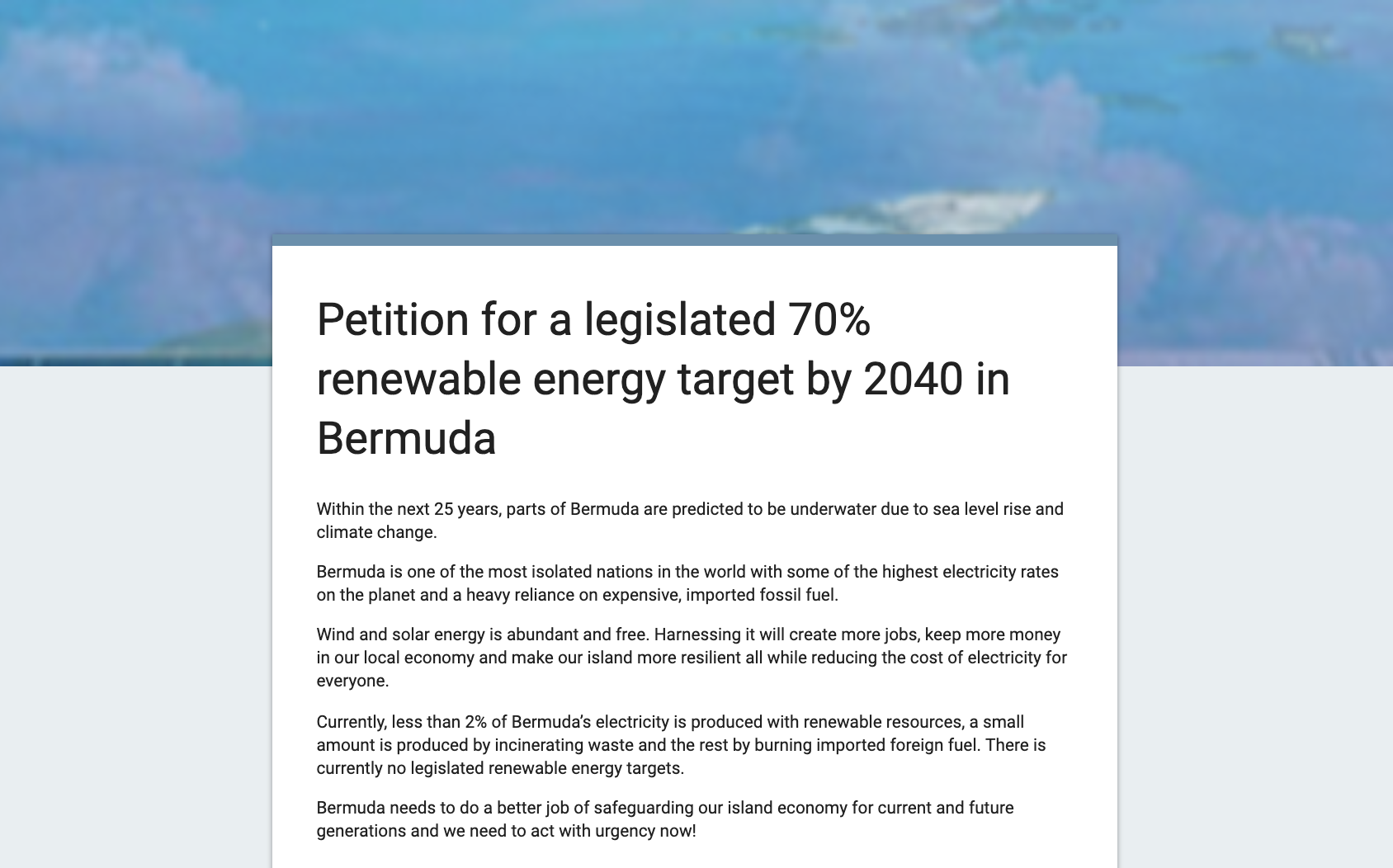 Within the next 25 years, parts of Bermuda are predicted to be underwater due to sea level rise and climate change.
Bermuda is one of the most isolated nations in the world with some of the highest electricity rates on the planet and a heavy reliance on expensive, imported fossil fuel.
Wind and solar energy is abundant and free. Harnessing it will create more jobs, keep more money in our local economy and make our island more resilient all while reducing the cost of electricity for everyone.
Currently, less than 2% of Bermuda's electricity is produced with renewable resources, a small amount is produced by incinerating waste and the rest by burning imported foreign fuel. There is currently no legislated renewable energy targets.
Bermuda needs to do a better job of safeguarding our island economy for current and future generations and we need to act with urgency now!
Details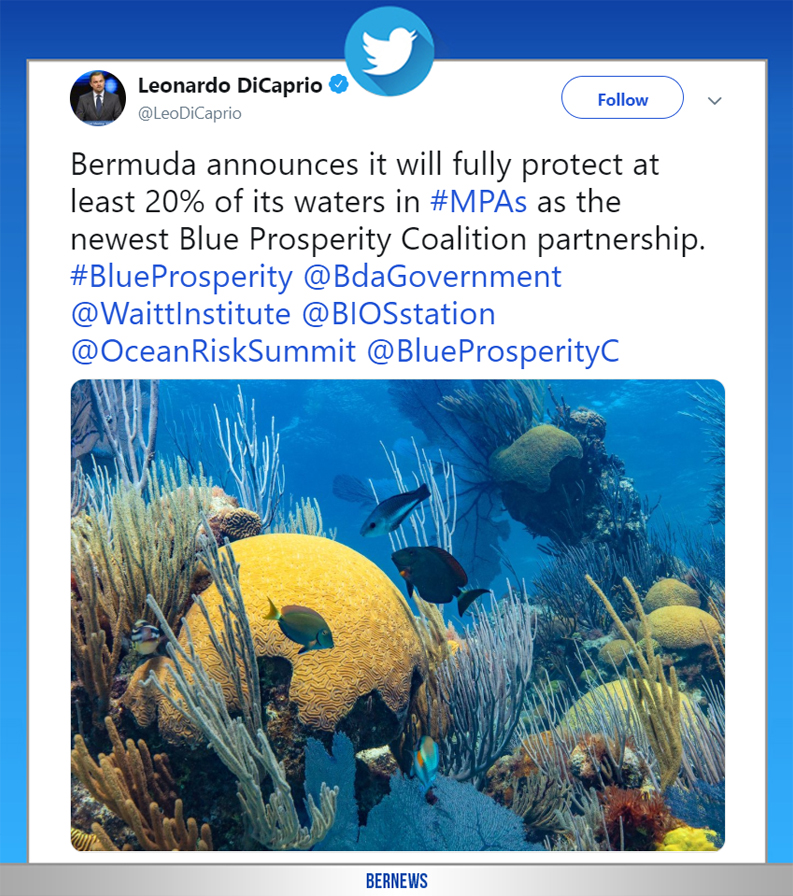 Prominent actor Leonardo DiCaprio recently took a moment to reflect on Bermuda's decision to protect at least 20 percent of our waters, sharing the announcement with his more than 19 million followers on Twitter.
In his tweet, Mr. DiCaprio said, "Bermuda announces it will fully protect at least 20% of its waters in #MPAs as the newest Blue Prosperity Coalition partnership."
Known for his roles in a long list of high profile films including The Basketball Diaries, Titanic, Django Unchained, and others, Mr DiCaprio also has a long history as an environmental activist.
Via his Leonardo DiCaprio Foundation – an organization "dedicated to the protection and wellbeing of all Earth's inhabitants" – the actor helps to support environmental projects around the world.
Earlier this month, the Ministry of Home Affairs, the Waitt Institute, and Bermuda Institute of Ocean Sciences [BIOS], signed a Memorandum of Understanding [MOU] to form the Bermuda Ocean Prosperity Programme.
"Through this partnership, Bermuda will create a binding ocean plan to sustainably manage and improve ocean industries like fishing and tourism while at the same time preserving 90,000 square kilometers [50,000 square miles] of Bermuda's waters, which total 465,000 sq. kilometers [ sq. miles], in fully protected areas [no fishing, extraction, or destruction of any kind is allowed]," a spokesperson said at that time.
"This process will be based on scientific, legal, and socio-economic assessments of the island and will be designated and implemented by 2022.
"Utilizing marine spatial planning [MSP], new inshore and offshore zones will aim to preserve commercially important fish stocks, migratory routes for marine mammals, and deep-sea ecosystems like seamounts and corals while allowing for responsible development of marine industries."
Details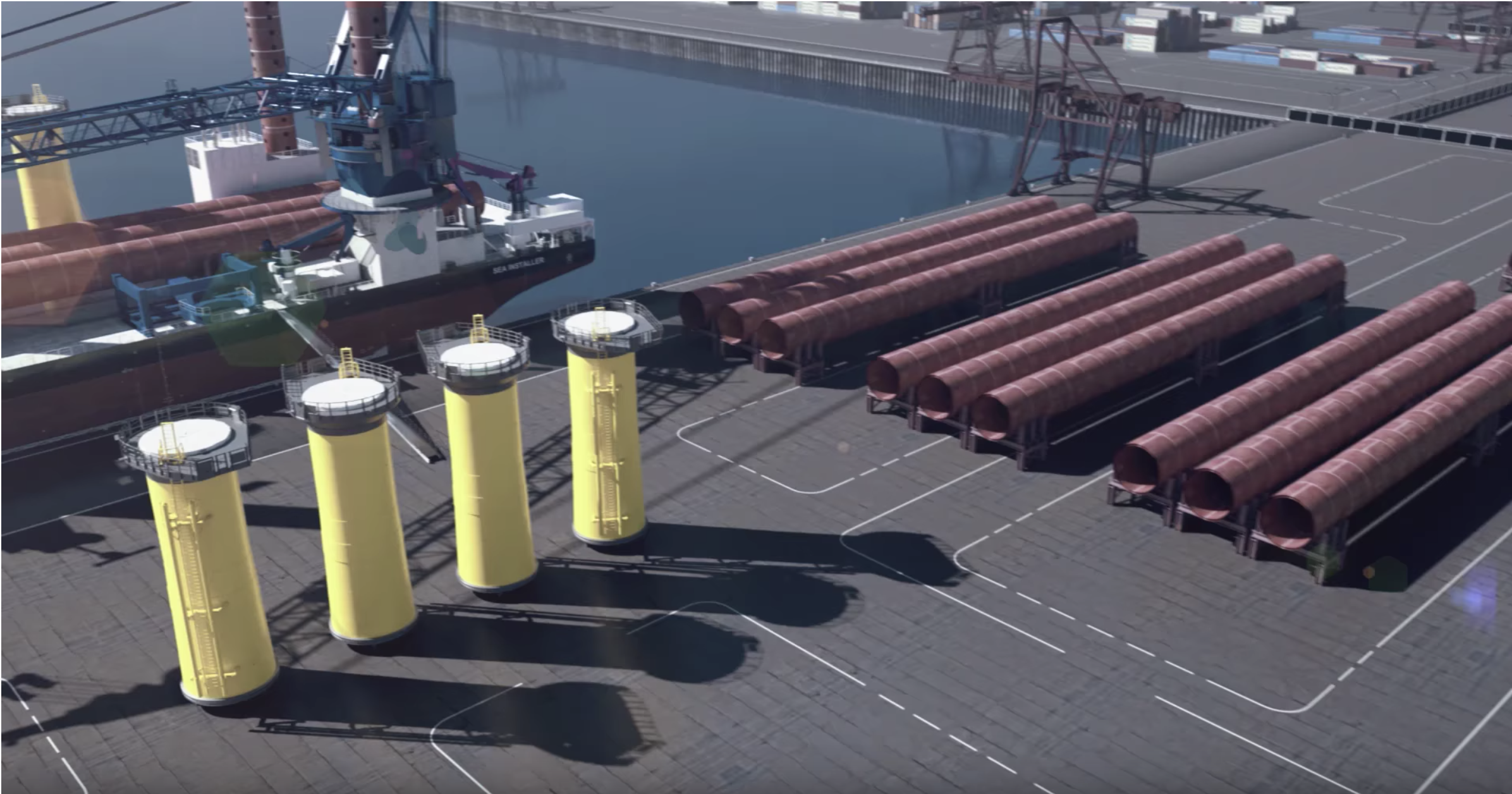 Click to Watch Full Video
Details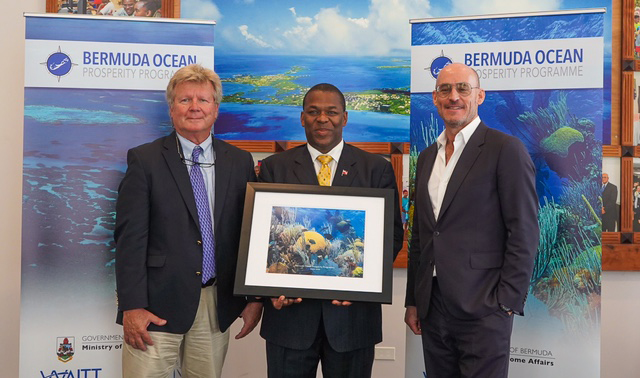 The Government of Bermuda has "committed to protect at least 20% of their total Exclusive Economic Zone [EEZ] in marine protected areas [MPAs] while vowing to sustainably develop their Blue Economy," the Government announced today.
Today [June 5] the Ministry of Home Affairs, the Waitt Institute, and Bermuda Institute of Ocean Sciences [BIOS], signed a Memorandum of Understanding [MOU] to form the Bermuda Ocean Prosperity Programme.
"Through this partnership, Bermuda will create a binding ocean plan to sustainably manage and improve ocean industries like fishing and tourism while at the same time preserving 90,000 square kilometers [50,000 square miles] of Bermuda's waters, which total 465,000 sq. kilometers [ sq. miles], in fully protected areas [no fishing, extraction, or destruction of any kind is allowed]," a spokesperson said.
"This process will be based on scientific, legal, and socio-economic assessments of the island and will be designated and implemented by 2022. Utilizing marine spatial planning [MSP], new inshore and offshore zones will aim to preserve commercially important fish stocks, migratory routes for marine mammals, and deep-sea ecosystems like seamounts and corals while allowing for responsible development of marine industries.
Deputy Premier and Minister of Home Affairs Walter Roban said, "We Bermudians rely on our ocean for our food, livelihoods, shipping, tourism, climate resilience and recreation. This partnership confirms our recognition that a healthy ocean is essential to our island's prosperity – our future depends on it. Bermuda is committed to achieving the highest standard of marine protection, which is essential to build ocean resilience, while at the same time ensuring economic resilience."
"Bermuda has a robust history of ocean management and research, starting with the protection of sea turtles in the early 1600s. The Bermuda Ocean Prosperity Programme will ensure this legacy lives on by leveraging current scientific understanding to preserve marine biodiversity for both its inherent environmental and socioeconomic values. BIOS is pleased to be a part of this initiative that will no doubt serve as a model for other countries around the world," said Bill Curry, CEO of Bermuda Institute of Ocean Sciences.
The Government noted, "900 km [570 miles] from the Eastern United States, Bermuda's waters contain the northernmost coral reef ecosystem in the world. While boasting some of the healthiest coral in the Atlantic, Bermuda's waters face mounting pressures from human activity such as declining fish stocks, sea level rise, and a potential risk of increased tropical storms."
"The announcement comes in the wake of last month's United Nations report which warned of unprecedented rates of extinction and asserted that direct exploitation of fish and seafood has the largest relative impact in the oceans. Mounting scientific reports declare that protecting 30% of the ocean in areas with no extraction will help maintain marine resources while maximizing fisheries yields and economic growth. The Programme will help Bermuda achieve international objectives set by the UN 2030 Agenda for Sustainable Development [ODS] 14, the Convention on Biological Diversity [CBD] and the IUCN [International Union for the Conservation of Nature]."
"The Waitt Institute will provide expertise and financing to support the comprehensive marine spatial plan [MSP] that aims to balance ecological, economical, and social priorities of the ocean. The Bermuda Ocean Prosperity Programme is part of the recently-launched Blue Prosperity Coalition, a network of global experts that offer world-class planning, legal, advocacy, strategy, and scientific expertise to help governments achieve 30% marine protection while growing their ocean economies."
"By taking proactive steps to manage their ocean, Bermuda is not only fostering healthier marine ecosystems, but creating a long-term roadmap for economic growth, food security, and climate resilience. Bermuda is taking the initiative to develop a "future proof" ocean plan that doesn't just designate protected areas on a map, but builds local capacity and enforcement, involves the stakeholders, and sustainably grows the ocean economy." said Ted Waitt, Founder and Chairman of the Waitt Institute.
Marine spatial planning was identified as a key tool for islands in the 2018 Ocean Risk Summit, hosted by Bermuda which identified potential global exposures to ocean risk and discussed innovative solutions to tackle its broad-ranging consequences. The MOU announcement has been warmly welcomed by AXA XL, the lead sponsor of the Ocean Risk Summit and one of Bermuda's largest commercial [re]insurers.
"Given the risk climate change poses to island communities, marine spatial planning provides a sustainable business and resiliency strategy that helps ensure long- term economic growth," said Charles Cooper, Chief Executive, Reinsurance at AXA XL and Bermuda Institute of Ocean Sciences trustee.
"Bermuda is the latest island nation in the Atlantic Ocean to protect part of their exclusive economic zone [EEZ]. The Governments of the Azores, Barbuda and Curaçao have recently announced similar commitments under the Blue Prosperity Coalition. Ascension Island recently received UK government backing for its call to designate all of its waters as a marine protected area, with no fishing allowed, which would make it the largest fully protected marine reserve in the Atlantic," the Government said.
Deputy Premier and Minister of Home Affairs Walter Roban's remarks:
Good afternoon,

We have just completed the signing of a Memorandum of Understanding that will introduce the Bermuda Ocean Prosperity Programme in Bermuda.

The Ministry of Home Affairs, along with the WAITT Foundation and the Bermuda Institute of Ocean Sciences are all partners in this project – and I am encouraged by the work that we will do together.

Today, I am pleased to welcome Mr. Ted WAITT, Founder and Chairman of the WAITT Institute and Dr. William Curry, CEO of the Bermuda Institute of Ocean Sciences, or BIOS.

The signing of this MOU signals a few key developments with regards to our economy, ocean spaces and the preservation of our environment at-large.

Foremost Bermuda will develop and implement an integrated marine spatial plan, similar to the terrestrially based Bermuda Plan 2018 currently under development, by 2021. This will include the entirety of Bermuda's Exclusive Economic Zone; which stretches 200 nautical miles off shore and totals some 465,000 square kilometers.

This plan, which will be scientifically informed, will foster economic growth by developing an integrated approach to building sustainable ocean industries, such as wind and wave renewable energy solutions and will implement sustainable fisheries policies and programs that create positive incentives to encourage responsible fishing.

It is important to me that the marine spatial plan be an open and inclusive process. Therefore over the next 30 months, as the plan develops, stakeholders and the public can expect to be fully involved in the consultation process.

The Bermuda Government is committed to achieving the highest standard of marine protection, which is essential to building ocean resilience, while at the same time ensuring economic resilience. This agreement details the Government's commitment to protect at least 20% of our Exclusive Economic Zone, which equates to 90,000 square kilometers out of the total of our 465,000 square kilometers. These areas will be determined through the upcoming consultation process. This protection will create optimal conditions for the improvement of ocean industries like fishing and tourism – while ensuring environmental sustainability of our coastal and ocean areas.

This programme will support the Government's stated goals of economic growth and diversification – while ensuring that Bermuda's environment and beauty are preserved. Further a marine spatial plan will support the Government's aim to incorporate environmental considerations in all Government decision making, and for environmental impact studies to be conducted on all major, and unusual marine developments and projects.

I want to sincerely thank Mr. Waitt for his commitment and that of the WAITT Foundation to provide the funding, expertise and capacity needed to complete this critical work. This project will no doubt leave a lasting legacy of sustainability and economic growth in Bermuda for generations to come.

I would also like to thank Dr. Curry and his team at BIOS for their expertise and knowledge that have been key to this process.

Last but certainly not least, I would like to commend the Department of Environment and Natural Resources for their diligence and direction on this programme as well.

In closing, I would like to draw attention to the fact that today is World Environment Day and thus, I find the signing of this MOU quite fitting and timely. The Bermuda Ocean Prosperity Programme reaffirms this Ministry's commitment a clean, sustainable and eco-friendly Bermuda. Today is a proud day for us all.

I will now turn it over to Mr. Ted Waitt.
BIOS President and Chief Executive Officer William Curry's remarks:
Thank you, Minister Roban, Mr. Waitt, distinguished guests.

Bermuda has a long and robust history of ocean management and research, starting with the protection of sea turtles in the early 1600s.

The Bermuda Institute of Ocean Sciences has been in Bermuda in one form or another for more than 100 years. Among its most notable achievements is the development of a decades-long series of measurements of the deep ocean and climate conditions, as well as a more detailed and comprehensive picture of Bermuda's nearshore marine ecosystems. These activities support not only the advancement of knowledge about our local and global environments, but also benefit local policy-making, education, and conservation.

Our contributions, whether in collaboration with the Government of Bermuda or with international partners, means that Bermuda continues to be a hub of scientific and educational activity that contributes to our understanding of threats to the ocean and the increasing risks posed by climate change.

The Bermuda Ocean Prosperity Programme will ensure this legacy lives on by leveraging current scientific understanding to preserve marine biodiversity for both its intrinsic environmental benefit, and its socioeconomic value. BIOS is pleased to be a part of this initiative that will no doubt serve as a model for other countries around the world.

Thank you